Imports of CBU (completely built unit) trucks and truck components, electric home appliances and parts, machines-equipment-accessories from ASEAN has strongly increased since early this year, reported the General Customs Department.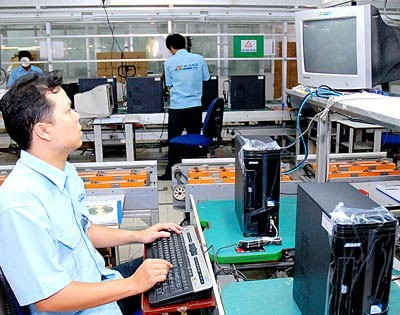 An electronic company in HCMC (Illustrative Photo: SGGP)
In the first three months alone, the import value of home appliances and components reached US$322 million, up 36.3 percent over a year back. Of the total value, $244 million was from Thailand.
Machines-equipment hit $434 million, up 9.3 percent. Of these, $179 million was from Thailand, $102 million from Singapore and $98 million from Malaysia.
The sharpest increase was in CBU trucks accounting for 87.6 percent. During the same period last year, it was $152 million making up 31.2 percent of the country's import turnover of this item. Most came from Thailand with $142 million.
The import turnover from ASEAN of computers, electric products and components, petrol, wood and wooden products all reduced.
The total export import turnover between Vietnam and ASEAN was down 9.3 percent over the same period last year to US$9.4 billion, creating Vietnam's trade deficit of $1.38 billion.
Of these, the highest deficit was from Thailand with $982 million and Singapore with $806 million.
Vietnam saw trade surplus of $331 million from the Philippines and $225 million from Cambodia.