As experts predicted, a VND800 per liter increase at the pumps last week is leading to increased prices for other goods.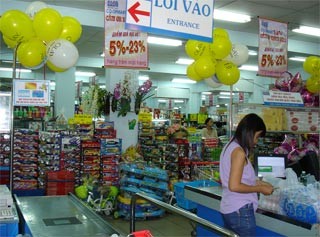 The prices of consumer goods at supermarkets move up after the increase at the pumps last week (Photo: Hoang Yen)
Since last week, fresh food prices have been on the rise, with some increasing by 20 percent over the previous week. Notable among them was pork, a mainstay in the Vietnamese diet, and fruits and vegetables, which increased by VND500-2,000 per kg.
 
The increase in petrol prices not only increased the price of seafood but also decreased sales.
 
It was inevitable that the prices of consumer goods at supermarkets would move up. At Co-op Mart supermarkets, the prices of many items were adjusted up from 5 to 7 percent, including cooking oil, frozen seafood, confectioneries, cosmetics, and many others.
 
Nguyen Thi Tranh, deputy general director of the Saigon Co-op, said distributors increased their prices by 10-15 percent immediately following the increase at the pumps. 
 
"However, we negotiated with distributors for a reasonable price mark-up in order not to drive our customers away", she added.
 
Rapid price changes are easier to see at retail stores where reserve goods are not stocked. 
 
One shop owner said there are no categories of goods that have not experienced a price increase. From a needle and thread to foods and children's toys – they are all on the increase.
 
Asked what was at the root of the price increases, manufacturers point to the increased cost of their material inputs, while distributors blame increased transportation costs resulting from the higher gas prices.
 
Trade Ministry statistics show that the cost of many materials increased sharply during this year's first quarter. Structural steel, for instance, increased 24.4 percent, oil and gasoline 3 percent and plastic material 17.6 percent.
 
According to a Viet Nam Trade Information Center forecast, the world's material prices will keep rising this month. With 70 – 80 percent of the materials resources used by the manufacturing industry in Viet Nam being imported, businesses here are bracing for further increases.
 
Other industry analysts predict that eventually, price rises in service industries like transportation and tourism will follow closely behind increases in the retail sector.