At a recent seminar on trade and investment opportunities between Vietnam and India in Ho Chi Minh City, India offered zero percent tax on 60 Vietnamese import goods from December 31, 2013.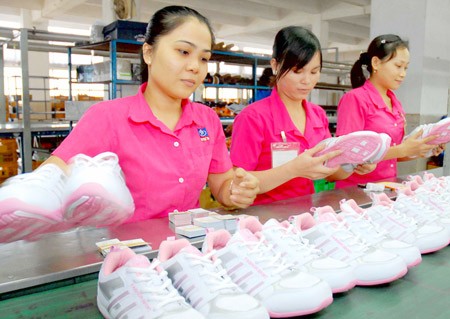 Workers making shoes at an export company (Photo: SGGP)
Accordingly, India will apply zero percent tax on 60 commodities imported from Vietnam after December 31 next year. The number of goods under zero percent tax will increase to 70 by 2016.
In turn, Vietnam will also offer zero percent tax on 60 commodities imported from India by 2018.
The two countries will reduce import tariff on commodities which are their main strengths like tea, coffee, pepper, seafood and garments from 2019.
At present, several commodities from India like animal feed and chemicals are enjoying low tariff rates of 0-9 percent in Vietnam.
According to the Vietnam Chamber of Commerce and Industry, two-way trade between the two countries has grown to reach US$3.9 billion in 2011, a four time increase compared to last five years. The two-way trade is now expected to reach $7 billion by 2015.
India is one of the ten biggest export markets for Vietnam. However Vietnamese commodities account for only 0.3 percent of the total import turnover of India.
Although India has applied the tax reduction in accordance with the ASEAN-India Free Trade Agreement, their average tariff rate is still at 30 percent.
The ASEAN-India trade is presently about $80 billion.