Indonesia is emerging as a redoubtable rival to Vietnam in leather and shoe exports with many Taiwanese and Hong Kong investors moving their factories there from China, says the Vietnam Trade Office in Indonesia.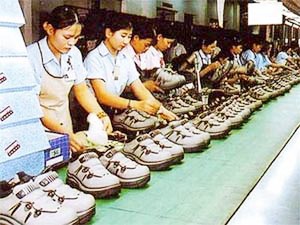 Production of shoes for export at a factory in Binh Duong Province (Photo: Tuoi Tre)

The office reports that so far this year, 22 shoe factories worth US$700 million have moved from China to Indonesia to avoid high production costs in China and tightened regulations on environmental protection in this country.
Some of these factories will operate soon, within this year, and the rest will start production next year, the office said.
Though its earnings from leather and shoe exports last year was just US$1.8 billion, much lesser than Vietnam's US$4 billion, Indonesia has boosted investment in this field with many incentive policies.
Currently, Indonesia ranks fourth in the world in exporting leather and shoe products, after China, India and Vietnam.
With a population of 250 million, Indonesia has an advantage over Vietnam and some other countries in Southeast Asia in terms of cheap labor, and this is highlighted when the Indonesian government calls for investment into country.
 
The fact that Vietnam has been facing an anti-dumping tax imposed by EU on leather-capped shoes has created an opportunity for Indonesia to step up its competitiveness, says Diep Thanh Kiet, vice chairman of the Ho Chi Minh City Leather and Footwear Association.
Therefore, although Vietnam has gained consumers' trust in the quality of its leather and shoe products, Indonesia is likely to become a strong competitor in the near future, he said.