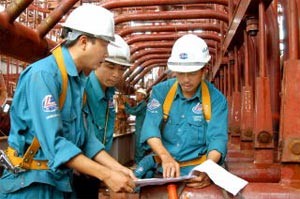 Construction of new power plants is among the Ministry of Industry's target in 2007. (Photo:TK)
Viet Nam would like to see industrial production value of VND575 trillion in 2007, up 17.1% compared with 2006, the Minister of Industry said recently.
Mr Hoang Trung Hai said the sector would achieve this target through such projects as the construction of Dung Quat Oil Refinery on the central coast, Phu My Power Plant in Ba Ria-Vung Tau and the nitrogenous fertilizer plant in Ca Mau, to name but a few.
The Minister added that PetroVietnam's gas power plant in Ca Mau would go on-stream in March.
Supplied via a 1,500-kilometer pipeline from a gas and oil field exploited by Viet Nam and Malaysia, the power station will add 10 billion kWh per year to the national grid, or 18% of the country's electricity production.
10 notable events in Viet Nam's industrial sector in 2006
1. Industrial production value was a respectable VND491 trillion, 17% more than in 2005. The sector's export turnover reached US$30 billion.
2. The Government signed a decision to establish four economic groups: petroleum, electricity, coal & minerals, and garments & textiles.
3. More industrial companies listed on the nation's two stock exchanges.
4. PetroVietnam began tapping its first overseas oil in April and brought home 30,000 tons of crude from Malaysia.
5. Construction of Viet Nam's first foreign power station began in Sekama, Laos.
6. Viet Nam built its largest ship yet, coming in at 13,500 tons.
7. Intel of the US, the world's largest computer chip manufacturer, increased its licensed investment capital in Viet Nam to US$1 billion to build a chip assembly and testing plant in Ho Chi Minh City.
8. Foreign direct investment in Viet Nam was a record US$5.5 billion.
9. The Prime Minster approved a new schedule of electricity prices for the 2007-2010 period.
10. All the Ministry of Industry's research institutes were given financial autonomy.