To boost agricultural development, investment in agricultural science and technology must be increased and human resource development for agriculture must be sped up, said Standing Deputy Prime Minister Nguyen Sinh Hung at the meeting with the Ministry of Agriculture and Rural Development on Monday.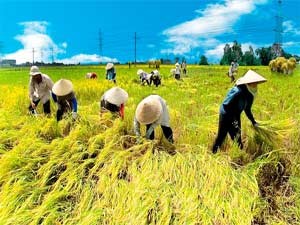 Farmers harvest rice in a field in Quang Nam province
According to a report by Minister of Agriculture and Rural Development Cao Duc Phat, the agricultural sector has performed well so far this year. 
This year's rice production is estimated at 37.6 million tons, up 1.7 million tons from last year, and total export turnover of seafood and agro-forestry products may reach over US$16 billion, up 26 percent, Mr. Hung said.
The area for growing of cash crops has been expanded considerably thanks to increasing demand in the world market, he added. 
However, the sector must do more to strengthen food hygiene and safety, improve the competitiveness of farm produce and forestry products and ensure a sustainable agricultural development, Mr. Hung stressed.
He also noted that spending on agriculture now accounts for only 7.5 percent of the capital investment of the country. Moreover, most of the agricultural investment has been used mainly for building dykes and embankment systems, not for agricultural modernization.
Therefore, relevant agencies and organizations must give priority to investment in agricultural science and technologies in order to build and develop a large-scale sustainable agriculture, he said.