Many U.S. businesses have said that they would visit and invest in Ho Chi Minh City after Deputy Chairman of the city People's Committee Tran Vinh Tuyen led a delegation to promote trade and investment activities in San Francisco mid July.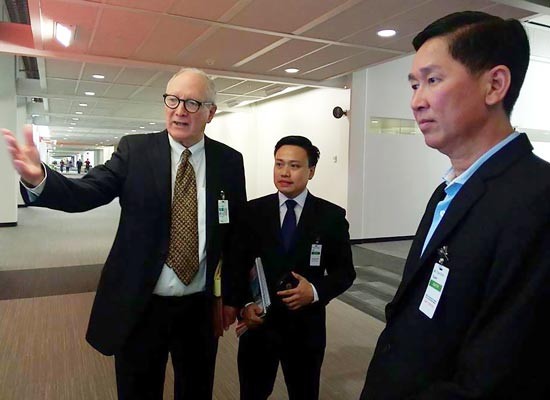 Deputy chairman of HCMC People's Committee Tran Vinh Tuyen (R) meets investors in San Francisco, the U.S. (Photo: SGGP)
At a trade promotion seminar in San Francisco, Mr. Tuyen introduced ten year long tax and land incentives to U.S. investors.
HCMC always efforts to create breakthroughs in three major fields including institution, human resource quality and infrastructure to make the city an attractive and reliable destination for investors, he said.
Of these, the city pays special heed to administrative reform and stabilization of tax and land preferential policies to set investors' mind at rest.
Director of the HCMC Investment and Trade Promotion Center Pham Thiet Hoa said that U.S. investors have invested in over 300 projects worth US$600 million in the city. The number is much higher than that if comprising U.S. investments via the third country in Vietnam.
During his business trip, the deputy chairman also met overseas Vietnamese and large leading science and technology businesses to call on investors.
Leaders of Texas Instrument Company said that the company intended to invest US$6 billion in Southeast Asia and would come to study investment in HCMC in the upcoming time. The delegation had provided the company with useful information on Saigon Silicon City project in the Saigon Hi-Tech Park.
Other businesses also said that they would visit and invest in HCMC such as Allies Telesis and partners, who plan to work on US$300-400 million Life Sciences project to build a research institute, commerce and service hub and hospital.
Greenvity shareholders also revealed that they would promote investment in Quang Trung Software City.
After a meeting with Vigilant Solutions, Mr. Tuyen placed an order to study an IT application project to raise HCMC citizens' awareness of traffic law conformation, and reduce traffic jam and congestion.
On this occasion, the city also introduced semiconductor and integrated circuit products made in the Saigon Hi-Tech Park at Semicon West expo.