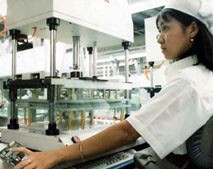 Viet Nam's economy will maintain its current stable development to lure foreign investements. 
In the second day of a two-day forum called "Viet Nam Investment Forum: Accessing Post WTO Investment Opportunities" on March 16, 2006, there were discussions on the capital market development and the reforms of banking system in Viet Nam.
The forum was attended by many executives from the Ministry of Finance, the State Bank of Viet Nam, commercial banks and stock companies.
According to Alain Cany, General Director of Hong Kong and Shanghai Bank Corporation (HSBC) in Viet Nam, the country's good result from its 20-year reforms, its remarkable economic growth rates and the messages delivered by the Government in the forum have rendered Viet Nam a favorable destination for foreign investments in the backdrop of a booming economy.
With commitment to the administrative reforms, the ease of restrictions in the banking industry, the combination of Investment & Enterprise Laws as well as the simplification of trading regulations showed that Viet Nam has clearly understood the benefits of foreign investment and the country is creating a favorable economic environment to boost the confidence of foreign investors in Viet Nam's potential.
"It is not because of Viet Nam's promising accession to the WTO but the country's own potentiality that made HSBC invest in Viet Nam", the general director said.
David Hornery, ANZ Bank's managing Director, said Viet Nam should maintain its current stable economic development, which means the country is providing foreign investors a good opportunity to join its market.
"It is only the initial phase of the long term cooperation between ANZ Bank and its partners in Viet Nam, which has lasted for only 14 years. We hope that this investment forum will act as a stimulant to Viet Nam's continuation of its reform process," he concluded.
Related links:
Deputy PM: Companies to Earn More Profit with Investment in VN