Saigon Port Company Limited (CSG) plans to launch its Initial Public Offering (IPO) on June 30. Despite not high growth potential in the main field of port service, the company has still received special interest from investors for its port positions.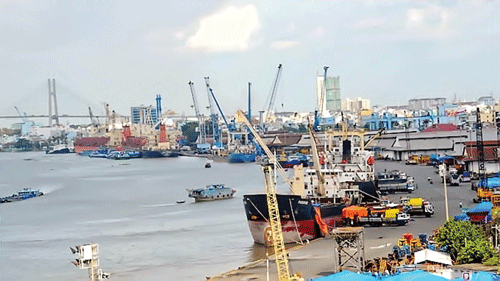 CSG's main trading field does not create its attraction
The state-own company belonging to Vietnam National Shipping Lines owns three seaports in Ho Chi Minh City and one in the neighboring province of Ba Ria-Vung Tau.

It is exploiting ports with a total length of 2.899 meters, 20 wharfs and 463,448 square meters of warehouses and container yards.

Cargo output via the port averaged 10.6 million tons a year in 2010-2014. Eighty percent of its port service revenue comes from Nha Rong-Khanh Hoi port in District 4 and Tan Thuan Port in District 7. The other two ports mainly serve bulk cargo.

Seaport experts forecast that CSG growth potential in its main field is not high because Nha Rong-Khanh Hoi contributing 50 percent of its port revenue will remove from June next year.

Tan Thuan 1 has operated near its total capacity. Cargo output via Tan Thuan 2 dropped 17 percent last year because of competition from surrounding ports.

CSG has made financial contributions to some joint ventures in Cai Mep-Thi Vai seaport complex. These projects are located along Soai Rap River advantageous for trade by railway, roadway and waterway. However most are under construction and some have opened for service without cost-effectiveness in the first phase.

Saigon-Hiep Phuoc Port is likely to help make up output reduction from imminently relocated Nha Rong-Khanh Hoi port but it has yet to be built.

IPO price

According to plan, CSG will offer 35.7 million shares equivalent to 16.51 percent chartered capital for sale via auction sessions with the starting price of VND11,500 per share on June 30.

The IPO is expected to increase the company chartered capital to VND2.16 trillion (US$99.15 million), equal to the state capital part at the company.

At present, three potential strategic partners comprising property developer Vingroup (VIC), Vietnam Bank for Industry and Trade and Vietnam Prosperity Bank have registered to buy CSG shares worth 80 percent, 11 percent and 11 percent of the company's chartered capital.

Analyses from Maybank KimEng Securities Limited (MBKE) show that with the staring price of VND11,500 per share, CSG's price-to-earnings (P/E) level is about 47, much higher than level 9 of other companies in the same field.

However, calculations from the company's book values give the share price of VND10,213 and P/E of about 1.1, lower than 1.4 of other companies in the industry.

Because CSG trading prospects are not as expectations, the company does not plan cash dividend in years after equitization.

Without significant changes in its operations, CSG proceeds is predicted to increase only 1.2 percent to reach VND935 billion this year and profit-after-tax to drop nearly 80 percent to VND10.6 billion.

Real estate target

The above analyses show that CSG is not attractive. However many large investors have ordered to buy a large volume of its shares in the coming IPO. 

According to MBKE, the company's attractiveness is from its large land fund. Riverside lands are supposed to be the main motivation to their potential strategic partners especially VIC.

The group has already bought shares from many previous port IPOs. Its Vinhome Central Park Tan Cang project under construction in Binh Thanh District used to be a depot of Tan Cang-Saigon Port, which has removed since 2014.

Total area used by CSG is 183.3 hectares with 30 percent being land of lease, the rest are land of allocation.

The land use term of nearly 558,000 square meter land of lease at Tan Thuan 1 and Tan Thuan 2 will expire by the end of 2020, which is said very attractive. These two ports might be removed making room for property projects like Nha Rong-Khanh Hoi port.

Facilities at the Nha Rong-Khanh Hoi port would be relocated and CSG will hand over the area to Ngoc Vien Dong Urban Investment and Development Company, who will build office buildings, apartment blocks, commerce centers, riverside villas, schools and tourist dock with a total capital of VND11 trillion (US$504.33 million).

Ngoc Vien Dong is an affiliation of VIC. Last year, CSG has contributed VND300 billion to this company equivalent to 26 percent of ownership rate. The projects are expected to bring CSG 10 percent dividend a year from 2018.