Viet Nam's consumer price index surged 17.61 percent year-on-year in the first four months of this year, driven by strong increases in food, housing and construction materials, official figures showed Friday.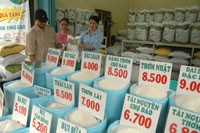 Foodstuff price has soared recently
According to the General Statistics Office, April's CPI rose 2.2 percent in comparison to the first three months. The hike in the index was underpinned by food and beverage prices, which increased 27.91 percent against the same period last year.
Rice and other grains increased by 25.5 percent while the cost of other foodstuffs went up 29.69 percent.
Meanwhile, housing and construction material prices rose 19.08 percent year-on-year.
The Vietnamese government is trying its best to deal with high inflation. The Ministry of Planning and Investment has just proposed the National Assembly to reduce this year's economic growth target to 7 percent.
The Asian Development Outlook 2008 released by the Asian Development Bank early this April predicted the country's GDP growth at 7 percent this year, down from its 8.5 percent expansion last year. Also early this month, the World Bank announced its six-monthly review, putting Viet Nam's economic growth at 8 percent (a base case scenario) for this year.