Viet Nam's consumer price index (CPI) rose by 2.38 percent in January over last December and was double that of the same period last year, due to high consumer demand for the occasion of the Lunar New Year festival (Tet), reported the General Statistics Office (GSO) yesterday.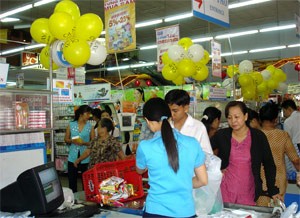 Shopping at Co.opmart Supermarket (Photo: H.Y.)
Restaurants and food services experienced the highest price hike of 3.76 percent, followed by housing and construction materials, 2.88 percent, alcohol and tobacco, 1.77 percent, and clothing and footwear, 1.4 percent.
 
Food continued to rise sharply in January, by 3.75 percent. While pork had increased in previous months, prices of other meat and seafood soared this month. For instance, beef went up by 10-15 percent, poultry 15-20 percent, and shrimp over 20 percent.
In contrast to this, transportation, post and telecommunication services decreased by 0.03 percent.

Compared to December 2007, Ha Noi reported the highest CPI of 3.25 percent; followed by Thua Thien Hue 3 percent; rural areas 2.53 percent, and Ho Chi Minh City, the lowest, at 1.3 percent.
The gold and oil prices keep rising in the world market, causing the domestic gold prices to follow suit. In January, gold prices rose 5.07 percent to almost VND18 million (US$1,125) per tael.

The GSO forecast the country's CPI will continue to rise in February, by about 2.5 percent.