Japan will revoke import tariffs on 2,586 Vietnamese goods from the middle of this year when the Vietnam-Japan Economic Partnership Agreement comes into effect, officials from the Ministry of Industry and Trade and HCM City People's Committee said.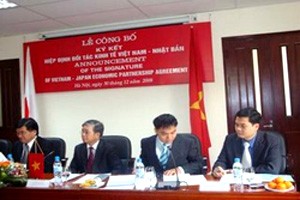 The Vietnam-Japan Economic Partnership Agreement, signed last December, will come into effect in the middle of this year, bringing major export opportunities for both countries
Speaking at a conference they organized in the city on April 14 to apprise businesses on the provisions of the agreement, they said by 2019 the number would go up to 6,302.
By then, 94.5 percent of Vietnam's exports and 87.6 percent of Japan's exports will enjoy tax-free access to the other country.
The average tariff on Vietnamese goods would fall from 5.05 percent now to 2.8 percent, they said, and on Japanese goods from 14 percent to 7 percent.
Vietnam would reduce tariffs on 8,873 Japanese items by 2025.
Vietnam farm produce to benefit

Le Trieu Dung of Ministry of Industry and Trade's Multilateral Policy Department said opening up the Japanese market to Vietnamese farm produce is one of the biggest benefits from VJEPA.
Tariffs on 70 percent of Vietnamese farm produce will go down to zero as soon as the agreement takes effect, the highest for any ASEAN member, and on 86 percent within a decade.
These include 23 out of the 30 biggest export items to Japan, including shrimp, crabs, honey, durian, and litchi.
Japan will give Vietnam a quota of 100 tons of honey a year and increase it by 50 tons every year, with the tariff fixed at 12.8 percent initially.
Durian and some processed fruits will immediately enjoy zero tax, while pepper and sweet corn will gradually see that happen over five to seven years. Coffee and tea will become tax-free in 15 years' time.
Shrimp and crab exports will become tax-free immediately, and cuttlefish and octopus will enjoy after five years.
The treaty was signed in Tokyo last December after 17 rounds of negotiations beginning in 2007.