Prime Minister Nguyen Tan Dung has signed a decision to establish a Japanese-Vietnamese board to coordinate work on three major infrastructure projects partly funded with Japanese Official Development Assistance (ODA).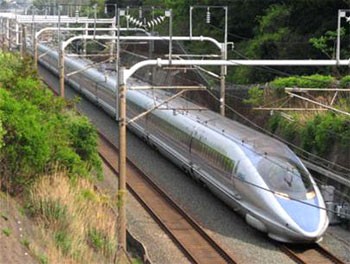 The Shinkansen railway in Japan will be referenced for construction of the North-South High-Speed Railway in Viet Nam
The ODA from Japan will be used to finance a feasibility study and master plan, as well as part of the construction, for two expressways and a high-tech park.
 
Nguyen Xuan Tien, deputy head of External Economic Affairs at the Ministry of Planning and Investment, says the Japan International Cooperation Agency (JICA) has been providing technical assistance for improving the master plan for Hoa Lac Hi-tech Park.
 
To get things moving, the Vietnamese Government has asked Japan to finance the construction of a road linking the Lang – Hoa Lac Highway and Thanh Tri Bridge as the first step in building Hoa Lac's infrastructure.
 
The road will facilitate the transportation of materials and freight from Hoa Lac to National Highways 1, 5, 10, and 18 as well as Hai Phong and Cai Lan ports.
 
Hoa Lac Hi-tech Park is scheduled for completion by October 2007. After that, the Japanese and Vietnamese authorities will work together to lure investment there.
 
The current investment in Hoa Lac is US$3 million per hectare, a figure that could increase to US$30-40 million once the infrastructure is completed.
 
Hoa Lac can attract investment of up to US$4 billion now that leading Japanese groups such as Panasonic, Mitsui Bussan, Mitsubishi and Sumitomo have shown interest, Mr. Tien said.
 
Regarding the North-South Expressway, Mr. Tien said JICA has provided technical assistance to complete Viet Nam's strategies for transportation development towards 2020, including drawing up reports on pre-feasibility studies for prioritized sections of the expressway.
 
The Japanese Government and the Asian Development Bank will fund construction of the first section of the expressway, from Ho Chi Minh City through Long Thanh to Dau Giay, in the 2007 fiscal year.
 
JICA has completed strategies for Viet Nam's transportation development towards 2020, including a master plan for a high-speed north-south railway that is scheduled for completion by October 2009.
 
As part of this, Japan will train Vietnamese engineers, technicians and others in the construction and maintenance of high-speed railways.
The Japanese Government, along with the World Bank, the Asian Development Bank and others from the private sector, has pledged to continue to help Viet Nam build infrastructure, especially the three above-mentioned multi-billion dollar projects.
 
The three projects are the 1,900-kilometer North-South Expressway from Ha Noi to the Mekong Delta City of Can Tho, which will have 4-6 lanes depending on each region, the 1,700-kilometer North-South High-Speed Railway from Ha Noi to Ho Chi Minh City, and the 1,700-hectare Hoa Lac Hi-tech Park.