Viet Nam's consumer price index (CPI) in July increased by 0.4% above June and 4.4% over December 2005, the General Statistics Office (GSO) announced on July 24.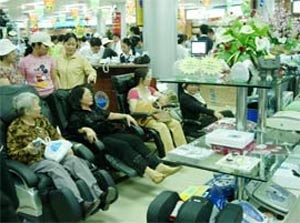 Household electronic products are favored during the hot season, contributing to pushing the July CPI up 0,4%.(Photo:TK)
According to GSO, the CPI growth rate in July is caused by higher costs of food and foodstuff in the domestic market, not to mention the currently sky-rocketing prices of construction materials and household refrigerants and electronic products during this hot season.
Figures have shown that the ten groups of products used to calculate CPI registered price increased between 0% and 0.8% this month.
The highest rise of 0.8% was reported in the housing and construction materials, caused by notable hikes in cooking gas prices.
The prices for garments, textiles and footwear, household appliances as well as educational services reached 0.3% while the prices of beverages and cigarettes, other consumers' goods and services went up 0.6% and 0.5% respectively.
Other groups including cultural-sport-entertainment facilities and communication witnessed no remarkable CPI fluctuation.
Many experts believed that the rising demands for rice in many international markets and a possible reduction of Thailand's rice export in August may cause a slight rise in the rice price towards the end of 2006.
Besides, the Government's local market watch group estimates that the Vietnamese consumers' purchasing power would increase in August, mainly in the group of services, food and foodstuffs, and commodities, to serve the new academic year and the children's Mid-Autumn festival.
Prices of commodities will continue to rise slightly due to the pressure of the rising crude oil and gold prices, GSO predicted.