According to the ministry, high prices of input materials for production in the international market during the second half of 2006 will lead to a high CPI growth and many possible fluctuations in the domestic prices.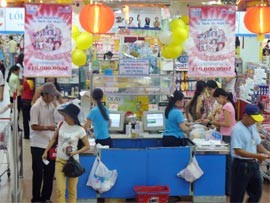 Vietnamese consumers are busy buying as the CPI would increase by only 0.2-0.3%. (Photo:TK)
However, market analysts predicted that the prices would not increase because there will be enough supply and domestic products are diversified enough to satisfy the local demand.
Besides, the July CPI will increase by only 0.2 – 0.3% over the previous month if Viet Nam continues to implement successfully its price stabilizing measures, said the Market Management Department under the Ministry of Trade.
The consumer price index (CPI) in June increased by 0.4% over the previous month and 4% over the first six months of 2006, the General Statistics Office reported.
Despite some difficulties caused by bad weather in the first six month of 2006, the domestic food market witnessed a reasonable output and no remarkable fluctuations in prices and consumption, ensuring enough reserved food supply.
According to the department, rice is expected to see a slight decrease in price in July, after the harvests of Northern provinces' winter-spring crop and Southern provinces' summer-fall.
However, many experts believed that the price would rise towards the end of 2006 due to a possible reduction of Thailand and China's rice export volume and a rising demand for rice in many international markets.