On the second day of the cabinet meeting in Hanoi on Dec 23, Prime Minister Nguyen Tan Dung affirmed that the Government will target an inflation rate under 9 percent in 2012.
He also ordered authorities at all levels to ensure that people have a happy traditional new year.
Prime Minister Nguyen Tan Dung chaired the meeting on implementation of socio-economic development tasks and the State budget for 2012 as set by the National Assembly, in Hanoi.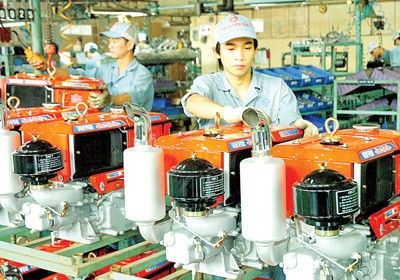 Producing generating machines in Vikyno Company to exported to Southeast Asia market
PM Dung said that in 2012, the Government will continue to give priority to curbing inflation, stabilizing macro-economy and maintaining sustainable growth, combined with upgrading the growth model and restructuring the economy.
Total exports for 2011 are estimated to reach US$96 billion, a year-on-year increase of 33 percent, and imports of $106 billion. GDP growth rate is estimated at 5.9 percent compared to 6.8 percent in 2010.
Major targets for 2012 include a GDP growth rate of 6-6.5 percent and a 13-per-cent increase in export turnover, keeping trade deficit under control, and State budget deficit under 4.8 percent of the GDP.
In 2012, the Government will strive to erase the electricity cut off and step up electricity projects to overcome the shortage of electricity nation wide.
Nguyen Van Binh, Governor of State Bank of Vietnam said the country has to make efforts to reduce interest rates while facing high inflation risks.
The main task in 2012 is that the central bank will adopt measures to gradually cut interest rates in accordance with decline in inflation and keep interest rates of depositors under 20 percent. Otherwise, Vietnam will be among the countries with the highest inflation rate, he added.
The Prime Minister said Vietnam has to adopt solutions for economic restructuring, including public investment, State-run enterprises and the banking system.
The cabinet will focus all resources on restructuring the economy and upgrading the growth model and investing in improving human resource quality and speed up scientific and technological applications.
Measures and schemes will be taken up to ensure social welfare and sustainable poverty reduction, improve quality of health care services, while upgrading natural disaster prevention, environmental protection and climate change adaptation.
The Prime Minister ordered that next year, the main target would be to stabilize micro economy, enhance exports, avoid import of luxury commodities, so as to promote more made-in- Vietnam products, and give priority to price subsidies of commodities, especially during the Tet holiday season.