The central province of Khanh Hoa did need US businesses to invest in oil refinery in Van Phong economic zone, said chairman of the provincial People's Committee Le Duc Vinh yesterday afternoon.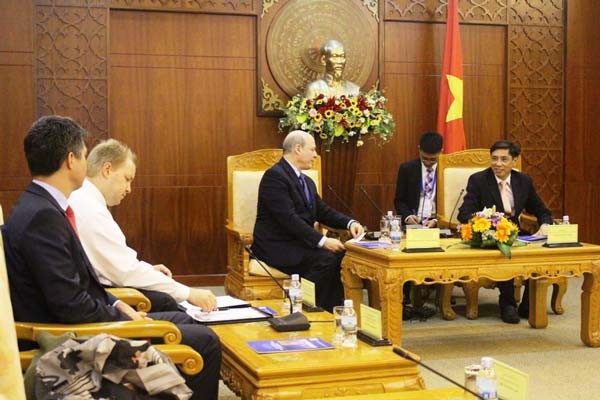 Chairman of Khanh Hoa province People's Committee Le Duc Vinh receives ambassador Matthew J. Matthews on February 27 (Photo: SGGP)
He was speaking at a courtesy meeting with Mr. Matthew J. Matthews, deputy Assistant Secretary and Ambassador for APEC Bureau of East Asian and Pacific Affairs, on the sideline of the ongoing APEC Senior Officials' Meeting in Nha Trang city.

According to Mr. Vinh, there is only one US firm investing a tourist project in Khanh Hoa with the total capital of US$2.65 million. The province receives about 30,000 American visitors annually, which is too humble compared to local potentials and the number of international visitors to the province. He proposed Mr. Matthews to help introduce about the province to American investors and visitors.
Khanh Hoa has lot of potentials in tourism, oil refinery and hi-tech agriculture. Nha Trang city in the province has been developing into a modern tourist urban area, financial and commercial hub of the southern region so there are many investment opportunities for foreign firms.
Ambassador Matthew J. Matthews appreciated the province's efforts in organizing the APEC Senior Officials' Meeting, saying he had visited many places in the city and found local landscapes very beautiful with many long term potentials and advantages.
The ambassador said that the US Consulate in HCMC was going to take a delegation of 30 US businesses to Vietnam to seek investment opportunities. So the province could take advantage of the opportunity to contact them and introduce about local investment environment.
Khanh Hoa should supply information about the legality of investment system which US businesses have been much interested in and focus on hi-tech and biotechnology projects which American firms have treasured, he noticed.
In addition, he urged the province to pay attention to foreign language training for cadres to lure investment.