Over 50 tea production and trading companies and authorized agencies in Lam Dong yesterday met to seek solutions for tea production and consumption problems, which have left thousands of tons of tea in stock in the country's largest tea growing area on November 3.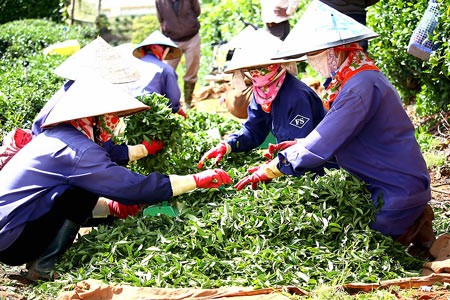 Tea harvest in Lam Dong province (Photo: SGGP)
According to reports at the meeting in Bao Loc city, the Central Highlands province has nearly 24,000 hectares of tea with an output of 230,000 tons. Of these, Cau Dat-Da Lat is estimated to be the leading material area for high quality Oolong tea production.
However, fluctuations in consumption market with disadvantageous information about product quality and food hygiene have raised difficulties for tea consumption.
Insufficient statistics show that local businesses have 5,000 tons of tea products in stock including 2,590 tons of black, 1,660 tons of green and 688 tons of Oolong teas.
Material purchase price have dropped by 5-10 percent over the same period last year. A kilogram of Oolong tea is priced only VND20,000, down VND4,000. Tea buds for green tea making fetch VND7,000-8,000, down VND2,000 and black tea material is paid VND4,000, down VND1,000.
Nine businesses have temporarily stopped running and many have moderately operated. Some Oolong farms have been forced to cut down their tea trees to limit harvest costs.
Mr. Nguyen Van Son, deputy director of the provincial Department of Agriculture and Rural Development, said that Pakistan and Afghanistan have been main markets of green and black tea products. However, they are risky with low liquidity.
Local businesses have not exported directly to these markets because Pakistani and Afghan traders have come to Lam Dong to buy tea directly.
 
Meantime, Oolong tea has much depended on Taiwanese market, where many technical barriers have been set up recently to limit import and protect its domestic production. Notably, they have lowered fipronil residue to 0,002ppm, which is 0,005ppm in U.S. and EU markets.
Besides, problems in tea growing, processing and quality management have also contributed to consumption difficulties.
Businesses have been unable to manage material source quality, especially pesticide residue. Many households have neither spayed it as per regulations nor ensured quarantine time before harvest.
Director of Tran Nam Viet Company in Bao Loc city Huynh Van Duan confessed that their inventory level has topped 2,500 tons and the company has been unaffordable for continuing production because of the above difficulties.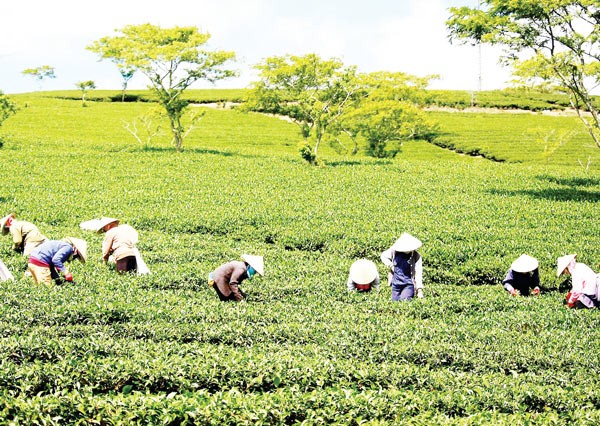 Workers picking tea leaves at a farm in Lam Dong province (Photo: SGGP)
Mr. Pham Duc Nguyen, director of Phuong Nam Company, said that many businesses do not have machines to quickly test repellent residue when buying materials from farmers.
In addition, there have no large scale tea fields. Tea farming is scattered amid other crops causing pesticide sprayed from nearby coffee fields spread to tea fields.
Director of TCB Company Ho Phuong said that local products have failed to meet requirements of many importers. His company now has many orders but been unable to meet all because of shortage of qualified products.
Farmers themselves decide the quality and safety of tea materials because they clearly know what kind of pesticide they have used and how many days that it has been sprayed, he said.
 
Mr. Doan Trong Phuong, deputy chairman of the Vietnam Tea Association in the southern region, said that tea growers should limit pesticide use. They should spray only when diseases attack tea crops.
Recording opinions of businesses, chairman of Lam Dong province People's Committee Pham S, said that the province would instruct authorized agencies to help tea growers raise awareness of hi-tech application in tea production, test some new types of repellent which can prevent diseases but not leave high residue in tea leaves.
To Oolong tea, he advised businesses to broaden their markets and reduce dependency on Taiwanese market.