Property traders in Hanoi have speculated on lands in the suburbs that are located in the capital city's town planning, making a new property fever.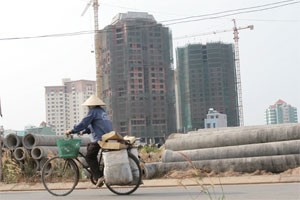 Rumors control the move of the property market in Hanoi as traders easily buy into gossips to speculate on lands (Photo:Minh Tri)
After the Tet holiday, many households in Hanoi's outlying districts of Dong Anh, Soc Son, Van Dien and Chuong My were suddenly getting rich from selling their lands.
Property prices of these areas were doubled, with price of lands in Nhat Tan Bridge of Dong Anh District surging to VND50 million (US$2,500) per square meter at least.
Lands in some communes of Soc Son and Van Dien Districts cost up to VND20-25 million per square meter and VND40-45 million per square meter respectively.
The price surged on widespread rumors that many property projects will be carried out over there, including the relocation of universities and hospitals and a new city alongside the Hong River, property brokers said.
Some property experts said the increase reminded them about the property speculation at Ba Vi Mountain last year, which saw land prices in areas surrounding the mountain increase sharply.
The speculation came from the plan that aims to keep National Assembly and Communist Party offices inside Hanoi as the country's "political center," while creating a new "administrative center" in the mountain, 60 kilometers outside the current capital city of Hanoi, composed of all ministries, departments and other government agencies.
Land prices in areas surrounding the swaths of Ba Vi property that have been designated for the project have begun skyrocketing since the plan was announced.
Nguyen Huu Cuong, general director of the construction firm Cuong Phat, said land prices in a new residential zone that his firm built in Minh Phu Commune of Soc Son District amount to around VND3 million per square meter only.
The land prices in further areas that have no infrastructure, meanwhile, surged to VND30-40 million per square meter due to rumors about town planning, Cuong said.
"Rumors control the move of the property market in Hanoi as traders easily buy into gossips to speculate on lands," said a property broker in the capital city.
"Moreover, property investors in Hanoi always struggle to assess detailed information about property projects. Therefore, they are easily lured by projects, which are vague and look hard to get," he said.
Analysts said the speculation also came from a shortage of a close supervision and loose management of governmental agencies.
"Speculation is down throughout the country, but it's up in Hanoi because land has always been scarce in the capital," Dang Hung Vo, former Deputy Minister of Natural Resources and Environment, said in an interview with Thanh Nien Weekly newspaper.