The latest figures show a large number of houses and villas located in new urban zones in Hanoi remain incomplete and abandoned as owners wait to resell for profit when the real estate rallies.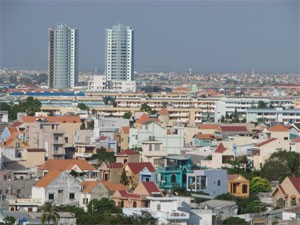 The latest figures show a large number of houses and villas located in new urban zones in Hanoi remain incomplete and abandoned (Photo:Minh Tri)
None of villas in the residential zone Quang Minh 1 in the capital city's Me Linh District has had residents. The residential zone Quang Minh 2 is coping with a similar issue, with 106 out of 208 villas and 67 over 106 houses remaining incomplete.
Up to 100 out of 213 villas in the urban zone Phap Van – Tu Hiep in Thanh Tri District with the total area of more than 50,000 hectares remain vacant. 186 over 257 villas and 191 out of 262 houses in the new urban zone Mo Lao in Ha Dong District are also in a similar condition.
Abandoned houses and villas are even located in the urban zones with complete infrastructures, including My Dinh II and Trung Yen. 19 over 206 villas are still unused in My Dinh II, while five over 61 villas and 26 out of 646 houses in Trung Yen still have no residents.
Meanwhile the city is short of land and many residents are looking for a place to live in.
New urban zones, meanwhile, are getting sleazy. Residents of the Mo Lao urban zone were provided with electricity after two years moving into the zone, while people living in villas worth billions of dong in the Bac Linh Dam urban zone in Hoang Mai District had no road access to their houses due to the incomplete infrastructure construction.
According to the Vietnam urban development strategy, urban area nationwide will increased sharply to 460,000 hectares from 105,000 hectares by 2020. The rate of urbanization is also expected to move up to 46 percent from 26 percent in 2025.
"The issue [abandoned houses] can be curb by taxes. Some villas have been left untouched for five to seven years and become dens of social evils. Thus owners of those places should be heavily taxed as they wasted lands," property expert Dang Hung Vo said in an interview with Dau Tu Tai Chinh Newspaper.
"Lands are properties of people in the country and those villas are properties built on lands. Even at developed countries, property owners are required to use lands efficiently. Vietnam's land fund is very limited, so we have to use them appropriately."
Dr. Pham Si Liem, vice chairman of the Vietnam Federation of Civil Engineering Association, says in Hanoi, property companies can recommend location of new urban zones and most of their recommendation were approved by the local authority.
The new urban zones, meanwhile, are located in many different places, leaving them failing to connect with the capital's infrastructure system, Liem said.
Experts said newly-constructed urban zones in Hanoi still cannot meet up the housing demand due to speculation.
Prime Minister Nguyen Tan Dung has asked the Hanoi government to check many villas in which billions of dong have been invested but have been abandoned for years, VnExpress said early this year.