Central provinces attracted US$3.3 billion in foreign direct investment (FDI) during the past 11 months, almost equaling all FDI received by the provinces over the last 19 years, thanks to the establishment of economic zones with open policies in 2006.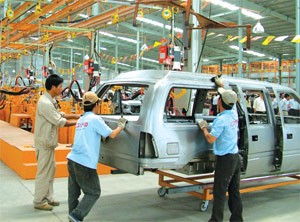 Making automobiles at a factory of Malaysia's JRD Motor Vehicle Co., Ltd. in Phu Yen Province
The provinces in central Viet Nam have licensed 77 FDI projects so far this year, raising their total to 395 with total registered capital of US$6.73 billion, accounting for 9 percent of the nation's registered FDI.

Companies from 36 countries and territories have invested in the central region and, for the first time, Britain has surpassed Asia to top the list of those investing with 13.1 percent of registered FDI, followed by the Republic of Korea (12.8 percent), then Russia (12.8 percent).

Phu Yen Province topped the list of FDI recipients with 52.3 percent, followed by Da Nang, 25.5 percent, and Thua Thien-Hue province, 11.5 percent.

Most FDI projects in the central region involve construction, trading and services, and agriculture, forestry or fisheries.

The provinces' increased FDI inflow comes thanks to improvements in infrastructure, open policies, and the establishment of the Bo Y international border gate and new economic zones last year, including the Chan May-Lang Co, Chu Lai, Dung Quat, Nhon Hoi and Van Phong zones.