The Conference on Investment Promotion in the Lao Bao Preferential Economic and Commercial Area (hereafter referred to as LECA), and the East-West Economic Corridor (EWEC) finished successfully, according to Quang Tri Province's leaders. The most successful outcome of the conference was "openness" and straightforwardness with the responsibility sharing between the province and enterprises to achieve investment efficiencies.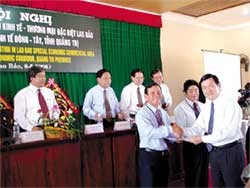 Mr. Truong Tan Sang (first right) grants investment licence to a Chinese enterprise's representative
Attendances at the Conference were Mr. Truong Tan Sang - Member of the Politburo, Chairman of Central Committee for Economic Affairs, Standing Member of the Secretariat of the Party Central Committee – and over 20 foreign and Vietnamese investors.

At the conference, the Quang Tri Provincial People's Committee granted investment licenses in LECA to four Chinese enterprises (100% foreign owned capital).
The enterprises will invest a total pledged capital of US$19.3 million in such fields as assembling and manufacturing agricultural-fishing-engineering machines, hand-held work tools; producing and processing agricultural and forest products; hotel, tourism and office building.

The Committee has also approved one foreign investment project (US$6 million-capital) and 15 local ones with a total investment capital of over VND1,000 billion (nearly US$59 million). Among which, eight projects are invested in LECA, three in Dong Ha Town and four in Cua Viet Tourism Services Zone.

Addressing the conference, Mr. Truong Tan Sang praised efforts by the local authorities and ministries to implement properly the Government's policies on LECA in the past, changing quickly a land of "zero" start to a commercial center at Lao Bao international border gate, an initial location of the EWEC.

Also, Mr. Truong Tan Sang acclaimed foreign and domestic investors for their investment in Quang Tri Province as pioneers in the international and regional economic integration tendency.

With the Government's incentive policies, Mr. Sang hoped, LECA will become a dynamic economic zone at the EWEC, boosting efficiency in the best interest of enterprises and Quang Tri Province.

On the occasion, leaders of Ha Noi and Ho Chi Minh (HCM) cities granted the province VND1 billion (nearly US$59,000) to set up study encouragement fund, support agent orange victims and restore martyrs' memorials.

Particularly, the HCMC- based Lien Thai Binh Duong Import-Export Company, ltd. gave the province VND500 million (about US$29,000) to build houses for war invalids and martyr's families.

The conference was held in Lao Bao Town, Quang Tri Province, northern central coast of Viet Nam, on May 8.