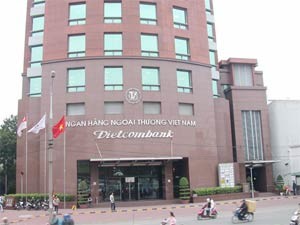 Vietcombank, one of 20 top businesses on the list
Yesterday in Ha Noi, the United Nation Development Program (UNDP) in Viet Nam publicized the list of 200 leading enterprises in the country based on a survey conducted over nearly 113,000 companies nationwide, not including wholly foreign owned ones. Most of them are state owned businesses.


The UNDP pointed out that although the 200 leading enterprises are employing only 15 percent of the labor force, they make up 40 percent of the total assets and over 25 percent of the turnover and 45 percent of taxes paid.
Enterprises in banking and petroleum sectors acquire a large proportion of the list.
According to UNDP's experts, the enterprises have exerted a significant influence on the development of the Vietnamese economy as they can take the initiative in applying new technologies, renovating their products and in stimulating the need for infrastructure, capital and for the force of skilled workers.

These businesses have also been successful in diversifying their products so that they can compete with others in fiercer competitions and on new markets, added UNDP's experts.
UNDP's experts emphasized that although being top-ranking ones in the country, the leading enterprises' scale, however, are only equivalent to those of small and medium sized enterprises worldwide.
Mr. Jonathan Pincus, senior economy expert of the UNDP said, " In three or five coming years, many more businesses in Viet Nam can be added to the list. This fact shows that the economy in Viet Nam actually has a great development potential."
According the assessment of UNDP, enterprises in Viet Nam have applied three key strategies to enhance their competition ability, which are improving their main business activities, expanding their export markets and diversifying their business lines e.g. investing in real estate markets, tourism industry and in other emerging capital markets.
Mr. Pincus, however, pointed out that although the state businesses on the list have lured a large volume of investment capital, they will not create many more jobs for the population and their approach to new technologies are still limited.
UNDP experts said that whether or not the enterprises' development strategies achieve success will greatly depend on their ability to approach the new technologies, on the capacity of the force of skilled workers, new business lines and on speculative investment sources.
UNDP experts added that the enterprises also need the government's assistance and support in education and training.
Top 20 on the list of 200 leading companies in Viet Nam
1- Vietnam Bank for Agricultural and Rural Development
2- Vietnam Post and Telecommunications Corp.
3- Vietnam Electricity Corp.
4- Vietnam Bank for Investment and Development
5- Vietsovpetro
6- Vietcombank
7- Vietnam Pouyen Co.
8- Vietnam Insurance Corp.
9- HCMC Post and Telecom Co.
10- Viettel
11- Vietnam Railway Corp.
12- Thai Nguyen Steel Co.
13- Vietnam Canon Co., Ltd.
14- FPT Telecom
15- Vietnam Diary Products Joint – Stock Company (Vinamilk)
16- Southern Steel Corp.
17- Vietnam Mobile Telecom Services Co. (VMS)
18- Tae Kwang Vina Industrial Co., Ltd.
19- Vietnam Paper Corp.
20- Vietnam Fujitsu Computer Products Co.