Spaces for lease in Ho Chi Minh City are getting more expensive on the increasing amount of new businesses, brokers say.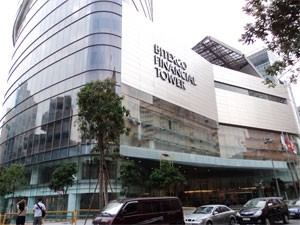 The Bitexco Financial Tower offers leased space with total area of 20,000 sqm. Spaces for lease in Ho Chi Minh City are in high demand as many new businesses have emerged (Photo:Minh Tri)
"A leased space with an area of 40 square meters only on Nguyen Dinh Chieu Street in District 3 costs me US$1,200 per month," said Mai Xuan Chuong, owner of a fashion shop.
Chuong said the landlord even wanted to raise the rental for each three months. "I could cover the expense in previous year, when the shop's daily sales of previous years were up to hundreds of Vietnam dong," he said.
"The rental now is too expensive for me as the daily revenue slumps to few million dongs due to the economic recession".
Xuan Tap, owner of a cell phone shop on Cach Mang Thang Tam Street in the same district, is facing a similar problem.
"Knowing that his neighbors raised their rental, my landlord asked me to pay $400 more from the earlier rental of $1,000 per month," Tap told Dau Tu Tai Chinh newspaper.
He eventually decided to remove his shop to a place on Nguyen Oanh Street in Go Vap District, which is cheaper, but further from downtown.
Brokers said the space rental in downtown increased sharply to $20-40 per square meter a month, leaving small businesses including fashion shops, convenient stores and fast-food restaurants struggling to afford.
Many of them have to remove their businesses to outlying districts, where they can find leased spaces with "reasonable" rentals, brokers said.
A real estate broker, who wanted to remain anonymous, said some landlords made use of newly-built public constructions nearby to push their rental up.
"The space rental of the area around Nguyen Huu Canh Street on Binh Thanh District jumped up by 10-15 percent soon after the street was rebuilt to connect to the newly-built Thu Thiem Bridge," he said.
Tuyen, owner of a house on the street, said the space rental in the area was getting higher as the bridge helped make traffic between three districts - Binh Thanh, District 1 and 2 - more convenient, which is so good for doing businesses.
He is also offering his 190-square-meter house for lease with a monthly rental of $3,000.
Leased space in shopping centers
"Rental of leased spaces last year increased by around 15-20 percent from 2009," said Nguyen Thanh Vu, director of the property firm Kim Dien Phat.
Many real estate enterprises tried to cash in on the surging demand for leased spaces, making debuts of many new buildings with spaces for rent last year, he said.
The Hanoi-based property giant Vincom JSC, listing on the Ho Chi Minh Stock Exchange, made debut of the Vincom Center with an area of 48,000 square meters. House builder Bitexco announced the Bitexco Financial Tower with an area of 20,000 square meters.
Brokers said many more buildings with leased spaces are set to be available for rent this year, including Sunrise City, Saigon Pearl and Saigon M&C Tower. Their monthly rental is around $50-120 per square meter.
Property consultancy Savills expected the total area of leased spaces in Ho Chi Minh City in the first three months of the year will likely to increase sharply to 800,000 square meters from 600,000 square meters.