Despite the strong development of Vietnam's construction, foreign builders are still in charge of most major construction projects as local firms do not have advantageous terms from the contract negotiation, said Dr. Vu Khoa, chairman of the Vietnam Association of Construction Contractors. Dau Tu Tai Chinh Newspaper has interviewed Khoa to find out Vietnamese contractors' weaknesses.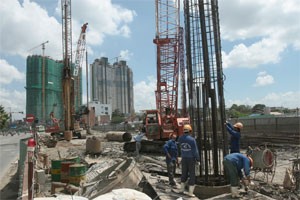 View of a construction site of an apartment building in Ho Chi Minh City. the Vietnamese builders are skillful and have strong financial base and advanced techniques (Photo:Minh Tri)
Dau Tu Tai Chinh Newspaper: How is the actual capacity of Vietnam's construction firms?
Dr. Vu Khoa: Vietnam's construction sector has grown strongly in the last 25 years. Earlier we had to hire foreign construction experts to consult us about works on big projects, including the cement factory Bim Son and hydropower plant Song Da.
Now local builders, such as Licogi, Vinaconex, Cofico and Song Da, are main managers of many complicated projects including hydropower plants and traffic infrastructure.
Construction giant Lilama is an EPC contractor of projects on large hydropower and thermal power plants with an output of 750-1,200 Megawatts. [EPC stands for engineer, procure, construct. Such as contractor typically does the whole project from start to finish]
Therefore, I can say that the Vietnamese builders are skillful and have strong financial base and advanced techniques.
But most of crucial projects have been carried out by foreign firms. Why?
This is a fact that the Vietnam Association of Construction Contractors cares the most and we will hold a conference entitled "Vietnam's construction contractors – How to win contracts" in Hanoi next week.
Local firms are good enough for large construction projects, except of ODA-funded ones which require contractors from the countries providing the funds.
At the conference, we will focus on discussing the process of negotiating contracts' terms in order to find out the reason why the Vietnamese builders remain subcontractors of the country's crucial projects.
Some experts said local builders' management capacity was still weak for key projects. That's the reason why they were not contractors of those projects. What do you think about that comment?
I think it is fair to say that Vietnam's builders are not good enough for some new projects including the oil refinery Dung Quat. 
However, foreign firms actually offered consultancy works to local builders, who were in charge of construction.
I believe that with experiences gaining from foreign firms, the Vietnamese builders will be soon capable of building construction projects, which have high requirements of scale and technology.
Some local constructions giants with strong financial base remain subcontractors of large projects due to the agreements between investors, relevant governmental units and contractors.
What are the biggest weaknesses of the Vietnamese construction contractors?
We lack a competition between local firms at the home ground. Local builders should try to train skillful human resources and to equip advanced technologies in order to boost their quality and brand name.
The government should assign local firms only to the construction projects that are funded by the government's budget.
We also need to be sharp during the negotiation process of foreign contracts in an effort to avoid the requirement of choosing contractors.