Vietnamese businesses in the past few years have heavily focused on exporting and forgotten the domestic market. In the current economic climate, such businesses have turned to the domestic market but found neighboring countries had flooded the country with products. As such, they have found an untapped market in rural areas.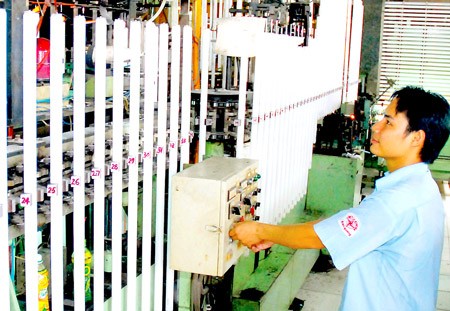 Dien Quang Lamp Joint Stock Company has seen domestic demand increase ten percent compared to last year (Photo: SGGP)
Consumption in rural areas is very large, especially products for children and the elderly, said Tran Huu Duc, foreign affairs director of Nutrition Food.
Le Trung Hieu, a sales manager at My Hao Cosmetic said that his company's current strategy is aimed at domestic consumers. The company has consistently achieved its year-on-year growth target of 20 percent.
A representative from the Handicraft and Wood Industry Association said that after exports shrank, some businesses that were strong in exporting products have returned to the domestic market.
They realized that many sellers in HCMC sell Taiwanese and Italian wood products, which have 80 percent of the city's market, pointing to a large potential domestic market for Vietnamese products.
Business Studies and Assistance Center (BSA) soon recognized the large potential of the domestic rural market. Since March, it has organized a program to help businesses sell goods in rural areas and has had some success.
Tran Nguyen, who is responsible for BSA's program, said that the center will continue to sell goods in Mekong Delta Province of Ben Tre, with the attendance of 35 businesses who will sell a variety of goods from cosmetics, household appliances and food.
The demand in rural areas is very large. Businesses should make use of this advantage, said Vu Kim Hanh, BSA's director.