Many businesses said they were grappling with the credit squeeze, which comes from the government's tight and cautious monetary policy early this year.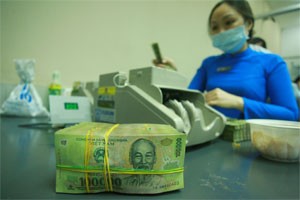 Many businesses said they were trapped in the credit squeeze this year (Photo:Minh Tri)
Nguyen Thi My Linh, chairwoman of the Binh Chanh Province Business Association, said many members of the association had to reduce their operation due to credit crunch and increasing input costs in the first three months of the year.
"The profit margin of local businesses is expected to reach measly 21 percent per year as the lending interest rate shot up to 25-26 percent per annum," Linh said.
"Some had to borrow from Agribank, with an interest rate of 21 percent per annum and credit limit amounting to one third of previous years' figures."
Linh noticed that local businesses were coping with a similar problem in 2008, when they grappled with surging lending rates and low-price imported products. She also warned that the difficulties would likely to force businesses to deposit their money into banks.
Nguyen Van Khanh, general secretary of the Shoes and Leather Association of Ho Chi Minh City, said high lending rates also forced many members to halt plans on expanding their businesses thanks to the removal of the anti-dumping taxes by the EU.
Khanh asked the HCMC People's Committee to provide preferential policy on interest rates for footwear firms, who suffered many disadvantages from the EU's anti-dumping taxes in the last five years.
Pham Ngoc Hung, vice chairman of the HCMC Business Association, suggested local businesses should gather their petitions to submit to the People's Committee of the city.
Financial experts said the overnight rate for interbank electronic payments this week declined to around 12 percent per annum from 18-20 percent on the slowing credit growth, which is caused by the government's tight and cautious monetary policy.
"Lenders offer loans to businesses in productive sectors only, which are unwilling to borrow due to high lending rates. Therefore, commercial banks will have to lower interest rates after managing to meet the central bank's requirements of liquidity and reserve ratio," a general director of a HCMC-based bank told Dau Tu Tai Chinh Newspaper.
Analysts expect the lending rate of the dong will decrease on the fact that commercial banks will gain an amount of around VND13 trillion as their government bonds will mature in the coming time.
The State Bank of Vietnam on May 17 increased its repurchase rate for the seven-day term to 15 percent from 14 percent, the sixth increase this year.
On April 29, it boosted its refinancing rate for the fifth time since the start of November to 14 percent from 13 percent, and lifted the discount rate to 13 percent from 12 percent. The increases in the refinancing and discount rates were effective May 1.
Inflation surged to a 29-month high of 19.78 percent in May, stoked by fuel and electricity prices. That's the highest among 17 Asian economies tracked by Bloomberg.
Gross domestic product rose 5.43 percent in the three months through March from a year earlier, slowing from a 7.34 percent pace in the fourth quarter of 2010.