The now-permitted import of used cars and the general weakness of the automotive sector have combined to make life tough for Viet Nam's car makers.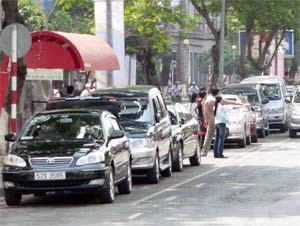 More imported cars now gear on Ho Chi Minh City's streets. (Photo:TK)
Local content falls short

To protect the immature local auto industry and adhere to the international economic integration roadmap, the Government has extended the period for the gradual removal of protection and priorities. However, the local-content ratio of Vietnamese-made motor vehicles has reached only 20 per cent, even though local automakers are committed to increasing the ratio to between 30% and 40% after ten years.

To reduce the prices of locally manufactured and assembled vehicles, the industry has no way but to cut production costs and increase its use of locally manufactured parts, something that is far from easy in a contracted market.

Industry experts say that enterprises have taken advantage of protectionism to raise their prices close to those of imported cars. For example, with the present tax policies, an imported car may cost US$50,000, so no joint venture wants to sell one of its similar cars for a measly US$30,000.

The high prices in consequence have resulted in low sales. With many enterprises having taken advantage of protectionism, the policy to increase the proportion of local content has failed.

In addition, the number of local enterprises specializing in manufacturing automobile accessories in Viet Nam remains low, around 60, and this includes the numerous producers of tires and inner tubes.

New foreign rivals enter Viet Nam

In all, 1,421 used cars were imported into Viet Nam in the 11 months to April since the ban on used car imports was lifted - 849 units in the last seven months of 2006 and 572 units in the first four months of 2007.
Accounting for 17% of the used cars imported into Viet Nam in 2006, Lexus surpassed other big names like BMW and Mercedes. Meanwhile Kia was the most popular make with 27% of the market.
Statistics from the General Department of Customs show that Vietnamese dealers mainly imported cars from Germany, Japan, the US and the Republic of Korea (ROK). The Kia and Daewoo imports from the ROK accounted for the biggest proportion, 25%, while imports from Germany made up 21% of the total.
Industry analysts warned that the entry of foreign-invested players into the local market would turn up the heat on local car makers, who are in danger of losing business, but at the same time, requesting them to shift their production to export.

Additional information:
May Auto Sales Surge 49%
Auto sales in Viet Nam by 12 foreign-backed firms jumped 49% in May from a year earlier to 3,969 units, the Vietnam Automobile Manufacturers Association reports.

Toyota alone sold 1,536 vehicles, or nearly 40% of all sales in May, and 37% more than a year earlier, the association said. However, Ford Motor Co. sales fell 16% from a year ago to just 314 units. GM Daewoo's sales jumped 179 percent from last May to 570 due to strong demand for its Captiva utility vehicle.

Viet Nam's annual per capita income remains one of the world's lowest at around US$720, but its vehicle prices are among the highest because of high tariffs and taxes. The sales figures below include passenger cars, commercial and multi-purpose vehicles.
May 2007 May 2006 % change on yr
Toyota 1,536 1,120 +37.0
Honda 286 n/a n/a
Ford 314 376 -16.0
Vidamco (GM Daewoo) 570 204 +179.0
VinaStar (Mitsubishi) 298 315 -5.0
Isuzu 294 233 +26.0
Visuco (Suzuki) 209 144 +45.0
Mercedes-Benz 221 86 +157.0
Hino Motors Vietnam 87 51 +71.0
VMC (BMW, Mazda, Kia) 84 72 +17.0
Mekong (Fiat, Ssangyong, PMC) 70 30 +133.0
Vindaco (Daihatsu) 0 33 ~
TOTAL 3,969 2,664 +49.0
(Source: Vietnam Automobile Manufacturers Association)