Foreign giants hold over 80 percent of Vietnam's vegetable seed market share, local companies occupy less than 10 percent and the remaining is from farmers' reserve.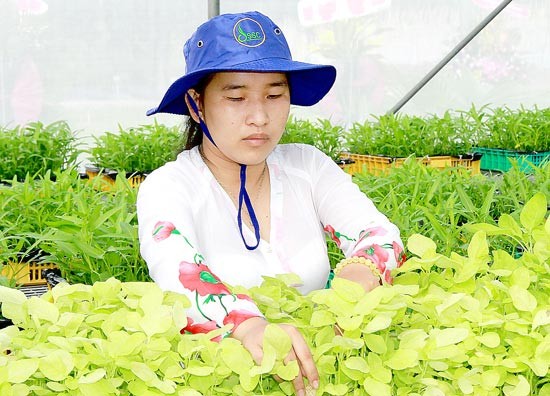 Vegetables grown in glasshouse (Photo: SGGP)
Vietnam produced 14 million ton vegetables last year, ranking third after China and India. Of these, ninety percent was consumed in local markets, the rest 10 percent was exported to about 40 markets in the world including EU, Japan, the South Korea, the US and China.
Production of the 14 million vegetables needed as much as 8,000 tons of seeds worth US$500 million.
However foreign companies are the main seed providers in Vietnam, holding over 80 percent of local market share.
Six out of ten leading seed companies who provide 70 percent of the world vegetable seeds have been present in Vietnam such as orange agent producer in Vietnam war Monsanto and Du Pont from the US, Syngenta from Switzerland, Bayer Crop Science from Germany and Sakata and Takii from Japan.
Seed production requires large investment capital and high technology and brings huge profit, said Mr. Ngo Van Giao, chairman of the Vietnam Seed Trade Association.
Dr. Nguyen Quoc Vong, who used to study in Japan and worked in Australia for several years, said that foreign companies hold the main market share in Vietnam because their hybrid seeds have high resistance ability against diseases and weather changes.
Foreign seeds have better quality, high sprouting ratio, short harvest time and high output.
Vietnam even imports seed varieties which can be produced domestically such as turnips, tomato, cucumber, cabbage and kohlrabi, he said.
Study and production of vegetable seed is time-consuming and costly, which foreign companies with qualified human resources are affordable.
Vietnam has 650 seed production and trade companies but they are short of capital to access new technologies. Their human resources are also limited.
As a result, they have focused on producing seeds for food crops and taken the command of ten varieties including rice, maize, coffee, rubber and pepper and popular vegetables like water morning glory, mustard greens, beans or water melons.
Professor Tran Dinh Long, chairman of the Vietnam Seed Association, proposed that the Government should create clear policies to attract local investors.