Many local companies, especially small- and medium-size enterprises, have hesitated to approach the national fund for science and technology development.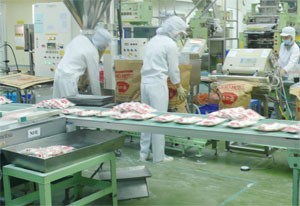 Employees work at a foreign-owned packaging factory. A few of FDI-led enterprises have transfer their technologies to factories in Vietnam (Photo:Minh Tri)
The Ho Chi Minh City People's Committee assigned the Department of Science and Technology to establish a science and technology development fund worth VND50 billion (US$2.5 million) in 2008.
Statistics from the science-technology department show that around 3,200 enterprises approached the fund in the last two years, of which only six companies achieved approval to borrow a total loan of VND26 billion for their technology projects.
The fund organizers said in the period of 2011 and 2015, they will focus on financing 100-200 businesses annually to upgrade their equipments, train their employees and help transfer technologies of around 20 projects of industrial firms.
However, some small- and medium-size enterprises said that they remained cautious about the fund.
A director of a plastic producer, who asked to be unnamed, noticed local businesses hesitated to attend the fund as they did not want to share their production technologies.
Some others still rely much on manual workers, instead of modern machines, as they were unwilling to apply long-term technologies to improve and diversify their product, he told Dau Tu Tai Chinh Newspaper.
"Local businesses are eager to learn technologies from FDI (foreign direct investment)-led companies. However, just a few have transfer their technologies to factories in Vietnam," said Nguyen Minh Tam, director of the trading and production firm The Phuong.
Nguyen Minh Hong, deputy director of Minh Hong Phuong said small- and medium-size enterprises with limited financial base and fledging staffs usually looked confused about coping with problems arisen during the time they carried out the science-technology projects.
Analysts said by failing to invest in research and development, Vietnamese companies are missing out on new technologies and falling behind in the rapidly changing global marketplace
According to the Department of Science and Technology in Ho Chi Minh City, Vietnam's industrial production hub, a recent study of 429 companies found that only three of them had applied advanced technology.
More than half were found to have been using "outdated technology."
Many foreign manufactures only consider Vietnam a place to assemble products where they can benefit from cheap labor and preferential investment policies. As a result, they rarely transfer technology to factories in Vietnam, Thanh Nien Newspaper quoted Nguyen Huu Thai Hoa, a consultant to the Minister of Science and Technology, as saying.