The Mekong Delta province of Long An will continue improving investment environment to lure more investors and promote its role as a bridge between Ho Chi Minh City and the delta in the upcoming time, said director of the provincial Department of Planning and Investment Nguyen Minh Ha.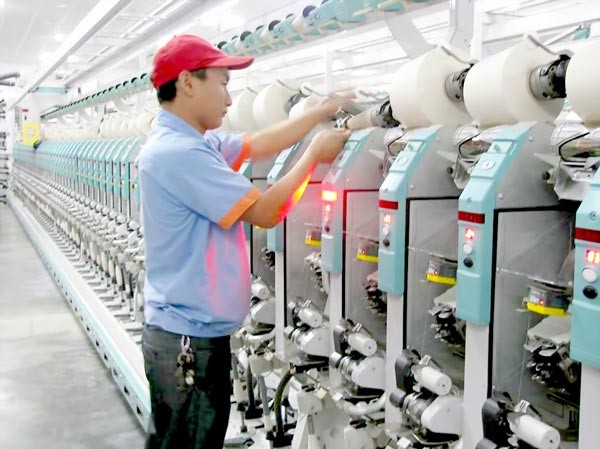 A worker at Hong Kong Huafu garment and textile group operates machines in Thuan Dao Industrial Park (Photo: SGGP)
Long An will focus on solving difficulties for businesses and technical infrastructure development to attract investors because entrepreneurs are considered to be a significant part in economic restructuring and industrial development, he said.
The province has 5,000 hectares of clean land fund for industrial development now.
The occupancy rate of industrial parks and clusters is 67.7 percent. This year, the province's Economic Zone Management Board and the Department of Industry and Trade will boost investment promotion to fill up an extra of 300 hectares, said that board director Nguyen Van Tieu.
The province will give priority to projects having modern technologies, efficiently using resources and making competitive products able to attend in production network and value chain, he added.
According to secretary of the province Party Committee Pham Van Ranh, the province is implementing its socioeconomic development strategy to become an industrial development province by 2020.
Local authorities will pay attention to environmentally friendly businesses, limit small scale investment, give priority to arranging investors in industrial parks and export processing zones and revoke slowly implemented projects.
In addition, the province will conduct mechanism reform to strongly mobilize domestic and foreign funds, choose effective projects and focus on fields serving industrial development.
Long An leads the Mekong Delta in foreign direct investment (FDI) attraction, locates in the southern key economic zone and plays the role as a bridge between HCMC and the Mekong Delta with two highways running through it. 
According to plan, the Government will invest in a railway and many belt roads linking HCMC up to the delta through the province.
Long An has two waterway traffic routes in Vam Co Dong and Vam Co Tay rivers, their  conflux runs into Soai Rap estuary before  flowing into the East Sea.
In addition, the province is considered to be the expanded industrial and urban zone of HCMC. This is one of advantageous conditions for the province to develop economics and goods trade, creating a foundation to attract investors.
At present, 16 out of 28 industrial parks are under operation in the province with the occupancy rate of 56.6 percent. Since being established, these parks have attracted 1,049 projects including 411 FDI investors with the total registered capital of US$2.63 billion and 638 domestic firms with the total funds of VND44.97 trillion (US$2.02 billion).
In addition, 14 out of 32 industrial clusters are active with the occupancy rate of over 85 percent. They are home to 254 projects comprising 55 FDI with the total capital of US$201 million and 199 domestic with VND5.1 trillion (US$229 million).
One of the successes of the province in investment attraction is Thuan Dao Industrial Park which has come into operation for 10 years and attracted 23 businesses including eight domestic and 15 foreign investors from the US, England, Japan, South Korea, Singapore, Hong Kong, Taiwan (China). Their investment value tops VND30 trillion (US$1.34 billion).