The property market has several positives going for it after a depressed year and if developers offer reasonable prices, demand could increase strongly, a top industry executive has said.
Dang Hong Anh, chairman of Sacomreal Company, says: "Interest rates are low, the securities markets are showing no signs of recovery, and investment in gold may be risky due to high volatility. Therefore, many people have decided to shift their savings into property."
Banks' interest-rate cuts and resumption of credit to property developers and the depressed housing prices are also factors contributing to a possible revival, he adds.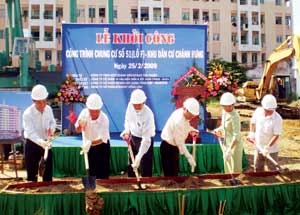 Work starts on a residential area in Ho Chi Minh City Feb. 25. It is expected that more supply would reduce house price (Photo: SGGP)
The property market is expected to recover strongly in the second half of this year as the Government's stimulus measures take effect and bank deposits invested at high interest rates last year mature.
An analyst says with prices unlikely to fall any further, property is likely to be the safest asset class if invested for long terms.
Though the property market has remained frozen for a while now, sound projects with good infrastructure continue to attract investors.
The Phu My Hung Joint Stock Company, for instance, has sold all 133 apartments it recently offered in its Riverside Residence project in district 7, according to Le Hoang Chau, chairman of the HCM City Real Estate Association.
Tan Binh Housing Development and Nam Long have also sold a number of properties, he adds.
The market research company VietRees has said this year will be a good one for the low – and middle-income housing segments, and this will also stimulate other segments.
Dinh The Hien, an economist, says though prices have fallen significantly from their peak, they remain high and out of reach of most buyers.
Low profit margins dissuade developers from investing in medium – and low-income housing, he says. So most focus on the luxury market would cause a limited supply of moderately priced houses, according to him.
He suggests that they should follow market trends and focus on building cheaper apartments.