Though new import prices of liquid petroleum gas (LPG) have yet to be announced, domestic gas companies have said local prices are to rise by over VND10,000 (US$0.6) per VND242,000-257,000 (US$15-16) 12-kilogram LPG canister.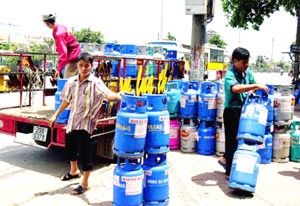 LPG prices will climb again early next month
Retail prices of domestic gas soared by VND25,000 (US$1.56) per canister early this month, then dropped twice, by a total VND9,000 (US$0.56) per canister, over the middle of the month.
 
An unnamed analyst said local sales had decreased due to the high prices, forcing companies to cut prices, regardless of world prices. Some even took losses to maintain market share.
 
Local gas companies want to raise prices early next month to partly recoup their losses over mid-December, said analyst.