Many real estate exchanges in Ho Chi Minh City are temporarily shut down without announcing the reopen date as the property market has remained frozen since early this year.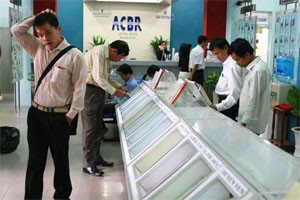 Customers pick house profiles at the ACB Real Estate Exchange in HCMC (Photo:Minh Tri)
There are often no visitors at the property exchanges on main streets including Tran Nao, Luong Dinh Cua and Vanh Dai Dong in District 2.
Employees of Minh Phuong property exchange on Luong Dinh Cua Street spend most of their working time at nearby coffee shops, the director told Dau Tu Tai Chinh Newspaper.
Phung Minh Duc, director of property company Vietreal, said "back to the time when the market remained booming, I opened three exchanges, with more than 50 employees. I still earned well after paying the total space rentals of US$3,000 per month, employee salary of VND120 million per month ($6,000) and other expenses."
"However, the revenue now slumped 70 percent due to the frozen market, forcing me to shut down two exchanges and fire 38 employees," Duc said.
A director of another company, who asked not to be named, said he had to shut down four out of seven exchanges and cut the number of employees to 20 from 60. "We also had to cut the budget for advertisement by 80 percent," the director said.
Experts warned the amount of unemployed people increased after their companies were shut down.
"Earlier, a property broker earned a monthly income of tens of millions of dong, which include salary of VND1.5-2.5 million per month and commission," said a broker in District 2.
Director Nguyen Thanh Vu of property firm MTV Kim Dien Phat, noticed many builders set up their own real estate exchanges to market their products, prompting to a shortage of houses and apartments on the market.
Most of them shut down the exchanges right after they sell out their houses or apartments, Vu said, recommending builders should fully announce detailed info about their products.
Experts said the property market remained quiet as the central bank tighten the lending growth rate of property loans.
Commercial banks must limit credit to "non-production businesses" such as those investing in the stock and property markets to 22 percent of total loans by June 30 and 16 percent by year's end, the State Bank of Vietnam said in a statement on its website.