The market economy mechanism has brought fruits to Vietnam which is now boasting  the stable macro-economy and a range of social welfare services in full place, said Prime Minister Nguyen Tan Dung  at an conference on perfecting socialist-oriented market economy in Hanoi on July 14th.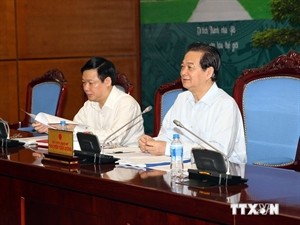 Prime Minister Nguyen Tan Dung speaks at the meeting (Source: VNA)
The conference was held to review the five-year realization of a resolution on perfecting socialist-oriented market economy adopted at the sixth meeting of the 10th Party Central Committee, seen as a landmark for Vietnam's shift from a centrally-planned, subsidized the economy to a market one.
The economy is now growing in tandem with social progress and equality, Prime Minister Nguyen Tan Dung said.
Members of the Party Central Committee's Commission for Economic Affairs, however, also pointed out drawbacks down the road, including the ineffective use of social resources and insufficient conditions for healthy competition.
They suggested continuing to complete laws so as to create a level playing field for businesses while offering assistance to the underprivileged.
Concluding the conference, the PM hailed their feedback as an important reference for the Party and State in the process of policymaking.
"What should be changed must be identified soon to forge a transparent, equal, and competitive market," he noted.
He asked units concerned to better specify the role of the State and the market, and the issues relevant to democracy, global integration, self-reliance and independence.