Consumer prices overall in May were 0.44 percent higher than in April, and increased 2.12 percent from December, the General Statistics Office announced.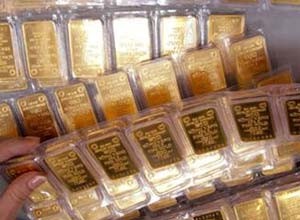 Domestic gold price set a record high on May 22, almost VND20.7 per tael of SJC gold
In a report late May 22, the GSO said food prices rose 6.50 percent year on year, beverages and tobacco upped 9.71 percent, housing and construction material costs rose 0.70 percent.
May saw the domestic gold price increase 0.61 percent on April. Since the beginning of this year, the gold price has risen 17%, in line with fluctuations in the world market. On May 22, the country saw a record high – almost VND20.7 million per tael (1.2 troy ounces) of SJC gold.
This month's inflation rate slowed to 5.58 percent.
On May 21, Standard & Poor's Ratings Services said it affirmed its 'BB/B' foreign currency and 'BB+/B' local currency sovereign credit ratings on Vietnam.
The world's foremost provider of independent credit ratings, indices and risk said that healthy economic growth prospects, reinforced by the government's persistent efforts in economic restructuring, partly offset these weaknesses. A modest level of external indebtedness also supports the government's credit quality.
By April, inflation has receded to below 10% and the trade account was in surplus for the first four months of this year.
Amid the current global economic slowdown, the Vietnamese government on May 19 asked the National Assembly to agree to reduce this year's economic growth target to around five percent from the previous goal of 6.5 percent.
The World Bank has estimated 5.5 percent economic growth for Vietnam in 2009 and the International Monetary Fund predicts 3.5 percent growth.