The mechanical manufacturing sector can now meet 40 percent of local demand, said Minister of Industry and Trade Vu Huy Hoang at a conference on Viet Nam's industrial development strategy through 2010, in Ha Noi, December 8.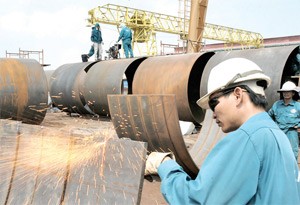 Making equipment for a hydroelectric plant at Lilama 45-1 Company
Minister Hoang said that since Government approved the strategy in 2002 the mechanical manufacturing sector has achieved encouraging results.
 
In the 1990s, the sector met only 8-10 percent of the country's demand. Now meeting 40 percent of local demand, the sector's output for local consumption is growing at more than 40 percent per annum and its exports climbed from US$1.175 billion in 2006 to over US$2 billion this year.
 
Currently, about 40 percent of automobile parts are produced in-country and the local auto sector can now make light trucks, less than 5 tons.
 
Motorbike production has made enormous strides during the past five years. It now not only satisfies local demand but also exports some 150,000 units per year. However, most exporters are foreign-invested. The proportion of motorcycle assembly inputs produced locally is now 80-90 percent.
 
Mr. Hoang said the local market still holds a lot of potential in the mechanical sector. Local enterprises can currently manufacture about 30,000 diesel engines per year while the demand for them has grown to 200,000.
 
He pointed out that enterprises should focus on making more complete units of equipment because the cement industry will construct eight 900,000-ton cement factories in addition to some 1.4-to-2.3-million-ton plants by 2009, according to development plans.
 
Some 40 projects to build 10-30MW hydroelectric stations have also been approved and the mechanical industry can take part in making equipment for these projects, Mr. Hoang added.
According to Nguyen Van Thu, President of the Viet Nam Mechanical Manufacturers Association, the state should pour enough investment into the industry so the whole nation can profit from capturing more value-added locally and integrate into the world economy.