A meeting to discuss possible modes of production and the consumption of tra and Ba sa catfish was chaired by Minister of Aquiculture, Mr. Ta Quang Ngoc, and the People's Committee of An Giang Province in Long Xuyen City on Monday. The delegates also discussed possible solutions for the excess antibiotic problem in exported products.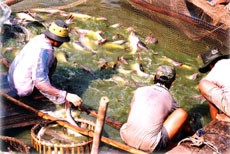 Farmers catch Ca tra and Ba sa catfish
According to the Ministry of Aquiculture, production of catfish has risen from 86,700 tons in 1999 to 825,000 tons in 2006. In 2007, experts predict this level to reach one million tons.

The rapid development of farms and output has caused a pollution problem, especially the levels of excess antibiotic in the products.

In order to meet the export requirements, the Ministry of Aquiculture requested that local authorities and related companies intensively prevent the use of forbidden medicine, step up the investment of infrastructure and irrigational works, improve technology to produce high quality animals and closely control the environment and disease outbreaks.