The domestic sugarcane industry is being crippled by low prices offered by smuggled Thai sugarcane, which is readily available in abundance in markets in the country, causing much anguish to sugarcane farmers in the Mekong Delta.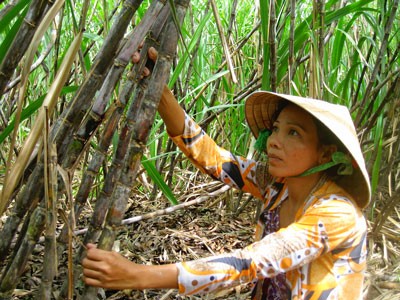 Sugarcane farmers in Mekong Delta in despair as cheaper Thai sugarcane is abundant in markets (Photo: SGGP)
Nguyen Thanh Long, chairman of the Vietnam Sugar and Sugarcane Association (VSSA), said in an exchange with Saigon Giai Phong Newspaper that this year sugarcane farmers are facing many disadvantages as prices in both the local and international markets have dropping drastically.
Sugarcane is being sold in the domestic market at VND15,000 a kilogram (US$0.72), a decrease of VND3,000 per kilogram compared to the same period last year, with farmers suffering losses from VND500-800 on one kilogram.
Long said despite reduced prices, customers do not want to buy Vietnamese sugarcane but they have switched to buying the smuggled product from Thailand.
According to statistics, some 400,000 tons of sugar is illegally brought into the country from across the southwestern border each year. Contraband sugar from Thailand is VND1,000 a kg cheaper than domestic sugar; as a result, smuggled sugarcane has hurt the domestic sugarcane industry.
On the other hand, Brazil, China and Thailand are enhancing production of sugarcane. According to forecasts of the International Sugar Organization, the world sugar economy faces a year of record global surplus. The gap between world output and consumption has reached 9.5 million tons. By the end of 2011, world stocks of sugar grew to 1.3 million tons; in 2012 it was 5.2 million tons and in 2013 it is expected to climb to 5.85 million tons; prices have thus fallen from $700 a ton to $455 a ton. Due to a decline in sugar price in the international and domestic markets, sugarcane price is also bound to fall.
Many sugarcane farmers in Phung Hiep District in Hau Giang Province in the Mekong Delta have to harvest their crop every year before it is fully mature, because of threat of falling prices and sudden flooding.
However in previous years, representatives from manufacturers from Long An, Ben Tre, Ca Mau provinces flocked to Phung Hiep District offering high price for sugarcane. The situation has changed this year as no factory wants to purchase the crop, leaving farmers disinterested in harvesting their fields.
According to Long, VSSA has proposed to province leaders to create favorable conditions to attract manufacturers in other provinces for buying up the sugarcane crop or else farmers will suffer more losses.
Long added that the Thai variety was more competitive than Vietnamese variety as Thai farmers utilize combine harvesters across tens of hundreds of hectares to reduce spending on manual labor. Besides, the rate of sugar extraction is much higher than in Vietnam.
Therefore, Long said the first thing to do is for Vietnam to improve sugarcane quality to raise sugar extraction which also helps reduce expenditure on production and prices. The government should adopt policies to help farmers and tighten checks on smuggling across border areas.