Two Mexican business delegations will visit Vietnam this November and in February 2016 to study investment and cooperation opportunities, local business executives told Ambassador to Mexico Le Linh Lan during their recent meetings.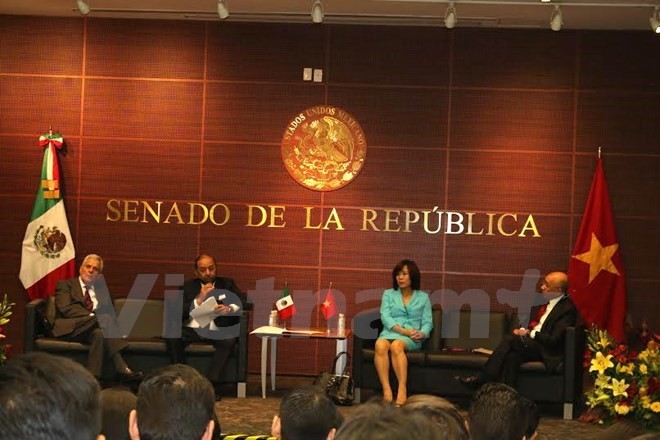 A seminar on promoting Vietnam-Mexico economic cooperation in Mexico city in September 2015 (Source: VNA)
The Ambassador attended the 22th Mexican Foreign Trade Congress held on October 1-2 in the northwestern state of Jalisco, where she held talks with Miguel Angel Landeros, President of the Western Mexican Council for Foreign Trade (COMCE) and Francisco Gonzalez Diaz, General Director of ProMexico - a Mexican government's agency of trade and investment promotion.
The diplomat also took the occasion to introduce Mexican enterprises to Vietnam's foreign investment policy, main export products and major trading companies.
According to the Vietnam Embassy's Trade Office in Mexico, trade turnover between the two countries hit USD 1.32 billion  in the first eight months of this year, an annual climb of 51 percent.
During the period, Vietnam exported nearly USD 1.07 billion worth of commodities to Mexico, up 38 percent year on year while importing goods valued at USD 320.94 million  from the partner, increasing 215 percent from the USD 149 million  seen in 2014.
In 2014, trade turnover between the two nations hit USD 2.26 billion, climbing 40 percent from 2013, reported the Mexican central bank and economics ministry.