Minister of Agricultural and Rural Development Cao Duc Phat has had a day long meeting with oversea and local businesses, listening to their opinions in order to map out agricultural development policies in new phases.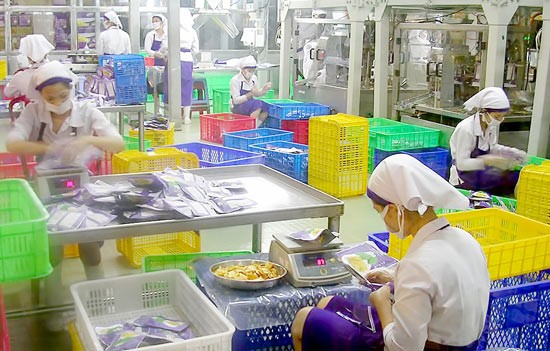 A jackfruit drying line of Vinamit Company in the southern province of Binh Duong (Photo: SGGP)
According to Minister Phat, the Gross Domestic Product (GDP) of the agricultural industry grew 3.3 percent last year. Many forestry, ago and aqua items continued leading the world in export turnover to reach nearly US$31 billion, an increase of 11.2 percent against the previous year and triple over 2006 when Vietnam had yet to join WTO.
Trade surplus was recorded at US$9.5 billion, up 7.7 percent against 2013. There were 10 items with export turnover exceeding US$1 billion. Vietnamese farm produce have been exported to 160 nations and territories.
Despite of these achievements, businesses said that preservation technologies in Vietnam are outdated and not good, resulting in low value and unstable consumption sources for its farm produce.
Businesswoman Dinh Kim Huyen in Canada said that Vietnam has mainly exported raw agricultural products without brand names making it difficult to recognize or buy Vietnamese goods in the world market especially in developed nations.
For instance, most Canadian consumers just know about Thai rice. Dragon fruits are usually spoiled after being exported to Canada because of poor preservation.
 
Farm produce prices are high in Canada, a basil stem fetches US$10, sweet mango US$30 and a hand of large banana US$40. If Vietnam improved its preservation technology, exports would be more advantageous, she said.
Vu Thi Mai Lien, oversea Vietnamese in Russia, said that Russian consumers like Vietnamese dragon fruits, mango, longan and litchi. However these fruits are usually rotten after being exported by sea which takes up to 45-60 days to land in Russia.
Transporting the fruit by air is costly, which surges the price of a dragon fruit to US$6 instead of US$1 as normal.
Pham Thi Kim Hoa doing business in Israel said that Vietnam's agricultural production and processing techniques were behind the times. That's why the country has mainly exported raw agricultural products and Vietnamese farm produce are not highly evaluated in the world market.
Israeli farmers stay at home and manage their farms via the computer system. Vietnamese farmers have to work in their fields and take care of each plant but their consumption sources are always uncertain, she added.
Representative of Vingroup Thai Hong Xuan Nguyet said that the largest limitation hindering businesses from investing in agricultural field was the shortage of overall information.
The Ministry of Agriculture and Rural Development should build a common online database for everyone to refer to when they need information about plants and animals which they can farm, where they can do that, how productivity and exports are.
Scientific research works in this field should also be provided for businesses to take advantage of social resources, she said.