Prices of petrol and oil will be adjusted on the basis of a market price mechanism, the Ministry of Finance and the Ministry of Industry and Trade jointly announced at a meeting on Tuesday.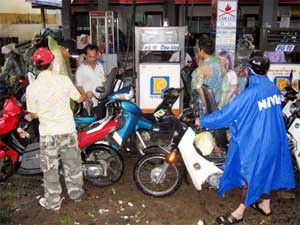 Filling up at a petrol station in HCM City (Photo: Thanh Nien)
The two ministries have set up an inter-ministerial supervision team in charge of the implementation of the new mechanism.
Petrol or oil price adjustments by major providers must be registered with the team. Within three days of receipt of such a registration from petrol and oil providers, the team must report and give its advice to the ministries on whether or a proposed adjustment should be approved.
In case providers do not get a reply from the team before the time limit has expired, they are entitled to supply petrol and oil according to registered prices.
Deputy Minister of Finance Tran Xuan Ha said the state budget would make up for losses suffered by importers of diesel before September 16.
He also said that importers of petrol and oil will be paid in advance an amount equal to the losses they incurred from sales of these items as of July 21.
The new mechanism will help ease the burden on the state budget, make businesses operate profitably and promote thrift practice among consumers, Mr. Ha said.
Most of participants of the meeting agreed with the new mechanism.
However, many consumers are concerned that high prices may be imposed on consumers by an alliance of petroleum providers.
Regarding this issue, Mr. Vu Van Quyen, deputy head of the Domestic Market Bureau under the Ministry of Industry and Trade, said that any such monopolistic acts will be dealt with according to the Law on Competition.