Measures to boost industrial production and exports in the remaining months of the year were discussed at a conference held by the Ministry of Industry and Trade in Hanoi on October 4.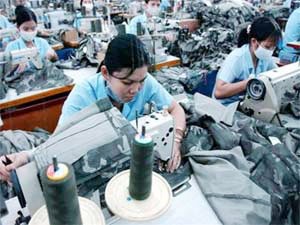 Workers at Saigon 3 Garment Company producing apparel for export. The Ministry of Industry and Trade discussed means to expand manufacturing and export at a conference it held in Hanoi October 4. (Photo: Tuoi Tre)
Reviewing the performance of the last nine months, Deputy Minister of Industry and Trade Bui Xuan Khu said this year's export target is US$64.68 billion, only three percent higher than last year's, but the figure so far is only $41.73 billion.
The target is unlikely to be achieved since global prices remain far below last year's levels despite seeing modest recoveries recently, he said.
Minister of Industry and Trade Vu Huy Hoang said the State Bank of Vietnam should give priority to selling foreign currencies to importers of raw materials and equipment required for production of export items.
The ministry asked the central bank to provide loans to key projects, including the mining of apatite ore and potassium in the northern province of Lao Cai.

The ministry said it would continue to promote consumption of domestically made goods.
It also warned that businesses have yet to focus on the domestic market and many do not meet consumers' quality, price or service demands.
Fake and poor-quality goods remain a problem while Vietnamese-made goods face fierce competition from imports, he added.
Most of the participants at the conference suggested that the Government should promulgate a decree on economic groups soon to create a legal framework for their operation.