Vu Huy Hoang, Minister of Industry and Trade, chaired a meeting in Ho Chi Minh City on Wednesday, to discuss and gather opinion on a draft project meant to resolve difficulties in production and trade for businesses, as per Government Resolution 13 and 26.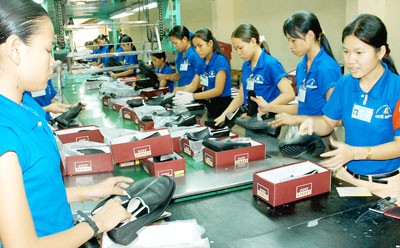 Medium and small enterprises continue to face difficulties as they are still unable to access loans (Photo: SGGP)

On verge of bankruptcy
According to Minister Hoang, the economic growth rate in the first half of 2012 was much lower than in the same period in earlier years.
Most medium and small enterprises could not access loans due to high interest rates or strict lending regulations laid out by banks. Purchasing power reduced by 3.1 percent and inventory was still high.
Prices of some farm produce have tumbled with a shrinking export market; the garment and shoe industry faced drop in orders, especially long-term contracts.
Nguyen Minh Toai, director of the Department of Industry and Trade in Can Tho City, said that economic woes are now much wider.
One third of businesses in Can Tho have declared bankruptcy or suspended work and one third have reduced capacity or are on the verge of bankruptcy. Several markets in the city have recorded 50 percent reduction in purchasing power, as against the same period last year.
Mr. Toai said that quality and price management of rice and Pangasius fish has slackened. Authorized organs let businesses decide the prices themselves, which led to unfair competition, causing prices to plunge.
The Ministry of Industry and Trade should pay attention to building brands and create synchronized mechanisms for rice and seafood export and import, he said.
Le Phuoc Vu, deputy chairman of Vietnam Steel Association, said that the numbers of businesses applying for solvency have not decreased.
He said that strong and tough measures are needed to bolster the economy and prevent more businesses from going bankrupt.
Interest rate still high
Quach To Dung, deputy director of the HCMC Department of Industry and Trade, said that although the Government has offered credit assistance and lower interest rate to businesses, most of them are still in serious shortage of capital as they are unable to meet lending regulations set by credit institutions.
She said that to help businesses access loans at 15 percent interest rate, the ministry should establish a special cell to examine and monitor capital and interest rate matters for businesses.
Vietnam now has more than ten credit guarantee funds which have been unable to function due to overlapping circulars. As a result, the Government should amend these circulars, especially Circular 193, to render these funds effective.
Several delegates at the meeting said that the 15 percent interest rate is still high for businesses at present. This should be further reduced to 5-7 percent.
The Government should provide financial assistance to both short and long term periods to businesses, especially those in the furniture industry, so that they can purchase more machinery and modernize production.
Nguyen Duc Tuan, chairman of the Vietnam Leather and Footwear Association said that, the Ministry of Finance has recently submitted to the National Assembly a draft tax law amendment.
Accordingly, the current law divides goods in two groups including temporary imported goods for re-export and import of material for production, with the first being tax exempt.
However, the ministry's new amended law draft adds up these two categories as one type and charges 10 percent tax.
Mr. Tuan said that the State should share difficulties with businesses and apply this policy appropriately.
Minister Hoang said that all matters put forward at the meeting are urgent matters and the ministry will deliberate on them before submitting to the Government.
The project aims to create advantageous conditions for businesses to stabilize production and trade and obtain their economic targets set for 2012 and for the period 2011-2015.