The Sai Gon Transportation Mechanical Corporation (Samco) officially inaugurated the largest automobile plant of Ho Chi Minh City (HCMC) in Cu Chi Province on March 14, 2006. The plant was built on a five-hectare area, equipped with modern production lines and designed to turn out 4,000 buses a year.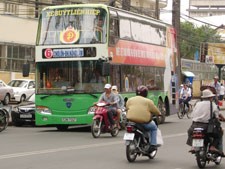 Samco double-decker in HCMC (Photo: T.C.)
In addition to such conventional products as buses and passenger coaches (30-80 seats), the plant is also prepared to produce new kinds of automobiles including low-chassis buses, double-deckers, tourist coaches with large boots and deluxe interior and specialized cars, e.g. ambulances, mobile transmitter cars, . . .
Samco automobiles will not only be sold in HCMC, but also in other provinces, even in foreign markets, according to Samco General Director Nguyen Tien Dung.
Currently, with the investment of over VND100 billion, the factory has made 40.35%-domesticized products possible and expects to increase the portion of home-made accessories in a finished product to 50% in 2007.
On the other hand, the Honda Corporation will continue to invest US$60 million to produce automobiles in Viet Nam in between 2006 and 2010.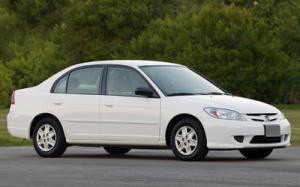 Honda Civic car may be launched in Viet Nam on July, 2006
It is anticipated Honda will launch its Civic car in Viet Nam on July, 2006, said Mr. Satoshi Toshida, Chief Executive Officer (CEO) of Asia and Oceania of Honda Motor, on March 14, 2006.
During the past ten years, Honda has invested US$194 million for production in Viet Nam.