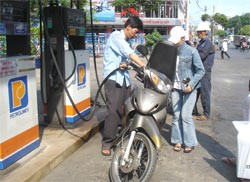 Fuel price is expect to be adjusted each month. (Photo:VH)
Viet Nam now must import all petroleum products to meet local demand; therefore the world prices seriously affect the country's economy. The government often raises import tax when the world oil price falls and reduces the tax when the world price rises.
It is now difficult to control the price in the context of global integration, so the country must move towards market-oriented adjustments, according to the Finance Ministry.
Petrolimex, however, has not yet received any official announcement regarding the monthly adjustment in oil prices based on the world's oil price. This adjustment is considered to be appropriate when Viet Nam integrates into the world economy, which helps businesses enhance their competitive ability, said Nguyen Van Canh, Sales Manager of the Petrolimex Zone 2.
Oil prices, ranging about 10% under the Decision 187/CP of the Finance Ministry, are acceptable at the moment. This is the first step to get the oil price move freely along with the world price, he added.
There will be a wide range of competitively priced fuel. And, consumers can buy petrol at the right price.
However, it is difficult to keep gasoline prices rising or falling by ten percent. Accordingly, petrol prices will reach VND11, 000 per liter or fall to VND8, 000 at the maximum, Canh affirmed.
Monthly changes in oil prices are quite dangerous because of the security risk of information released. For instance, speculation in oil appeared immediately when the government intended to push up the fuel price in 2005, said Dang Vinh Sang, Director of Saigon Petro.
The Government should intervene in basics which affect people's lives. Petrol is an exception, although it is essential energy and has a great impact on daily life, said Tran Huu Huynh, head of the Vietnam Chamber of Commerce and Industry's legal department.
Fuel prices should be oriented by the market economy since fuel is no longer subsidized by the government. On the plus side, the fact that Viet Nam is integrating into the world economy requires consumers to get acquainted with the price fluctuation in the global market. And, the Government should consider major issues like energy security in stead.