Ph.D. Tran Dinh Thien, Head of the National Institute of Economics, recently remarked that Vietnamese businesses can suffer all they can but will survive all hardships and difficulties.
However, the reality is far different. Initial statistics have shown that in the two biggest cities, Hanoi and Ho Chi Minh City, the number of businesses that have gone bankrupt in the past two months have increased sharply, a major cause of concern for Vietnam's economy.
About 500 businesses declared bankruptcy in January and February this year, while the numbers of new registered businesses were very modest.
Declaring bankruptcy is the final straw for any business.
The Ministry of Industry and Trade said that manufacturing industries such as textile, garments, fertilizer, paper, steel, leather and footwear had suffered a sharp decline in production in January and February compared to the same period last year.
According to the Domestic Market Department under the Ministry of Industry and Trade, the total flow of goods and services in February amounted to VND186.5 trillion, a drop of 3.8 per cent compared to January.
This shows that consumer demand is dwindling, pushing up inventories.
The causes of this are worth analysing. While inflation isn't showing any clear signs of waning, domestic consumption has slackened. This is a tough macro-economic situation.
Normally, the total flow of goods and services surge in line with inflation and consumer price index (CPI), but now they are going in an opposite direction. This is a big question for the
Government and ministries connected with macro-economic management.
According to Vu Van Dung, Vice General Secretary of Vietnam Association of Small and Medium Enterprises (VINASME), companies are finding it hard to keep pace with the speed of change in business regulations.
Many policies and documents contradict each other which cause untold difficulties to enterprises. In many cases, businesses have to bribe authorities to continue to operate.
Red tape in customs and tax departments also hinder recovery, say some economists.

Besides, enterprises also fail to seek capital. Many in paper and cement industries are struggling with rising inventories and higher prices of gas and coal.
These factors will continue to leave a huge impact on the manufacturing sector in March and thereafter.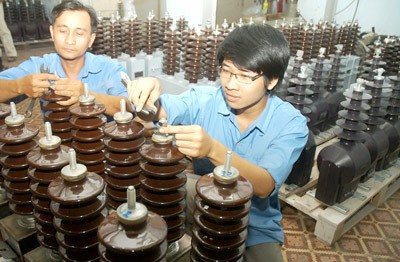 Small and medium enterprises are unable to access loans from banks at that rate (Photo:SGGP)
Meanwhile, leather footwear production is still choppy due to heavy dependency on external factors such as capital, material, technology and markets.
Most products are exported via a third party as direct sales remain limited.
For its part, the leather-shoe industry has been running short of labour since the end of Tet Lunar New Year in late January.
While export is in trouble, import spending in the first two months of the year is estimated at US$15.9 billion, a year-on-year increase of 11.8 percent.
This shows that it is the domestic enterprises that have absorbed the impact of the monetary tightening policy by cutting imports of equipment and materials as a result of soaring production, management and financial costs.
It is time now to create a healthy environment for businesses to sustain themselves and grow.