HCM CITY (VNS)— Viet Nam is working on a plan to achieve annual growth of 8 – 9 per cent for the next five years, Deputy Prime Minister Vu Duc Dam told a business forum in HCM City on Thursday.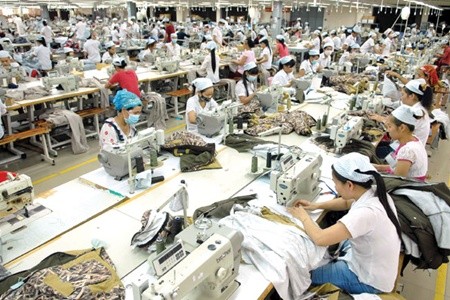 Workers make clothes at Dong Xuan Loc Garment Company at the Bien Hoa 1 Industrial Zone in Dong Nai Province. — VNA/VNS Photo Manh Linh
Speaking at Forbes Viet Nam's first Annual Business Forum, he said Viet Nam can only keep up with other countries in the region if it achieves such growth rates, which are much higher than during the previous five years when average growth was only 5 – 6 percent.
"Viet Nam's economy has emerged from a difficult period and has been showing signs of recovery. There remain many challenges, but also many new opportunities thanks to the concerted efforts by the Government."
The Government is implementing drastic measures to restructure the economy, focusing on restructuring public investment, the banking system, and state-run corporations, he said.
The plan also aims to create a socialist-oriented market economy, improve infrastructure, and develop high-quality human resources, he said.
It would also address social and environmental concerns and improve healthcare, education, agriculture, rural development, and, especially, defence, he said
"Since Viet Nam is a country with thousands of years of history it will not accept being a poor and backward country forever."
In the context of China's illegal placement of an oil rig in Vietnamese waters, he stressed that a developing economy must protect its independence and sovereignty.
He pledged that administrative procedures would be simplified and favourable conditions created for foreign investors to improve the business climate.
Rich Karlgaard, the publisher of Forbes, spoke about the important role creativity plays in helping companies beat their rivals. The Annual Business Forum, the largest business event in the country this year, brought together top Vietnamese and foreign business leaders and entrepreneurs for discussions on important economic and business issues and investment opportunities as Viet Nam begins a new chapter, Nguyen Bao Hoang, chairman of Interactive Media, said.
"The event is an opportunity for business leaders to discuss and explore investment opportunities and share business development experiences."
The 400-odd delegates included CEOs of international and local companies.
More than 20 leading speakers from the Government, World Bank, Fulbright Economist School, and major companies like REE, IDG Ventures Viet Nam, Minh Long I, Phu My Hung, ICP, Intel FPT, VNG, Jobstreet, and Thai Binh Shoes participated in the forum.
They spoke about how their companies became more successful and raising funds for expansion and innovation.