The National Financial Supervisory Commission (NFSC) organized a workshop on developing capital market for startups in Ho Chi Minh City on June 7 with the attendance of Deputy Prime Minister Vuong Dinh Hue together with local and foreign experts.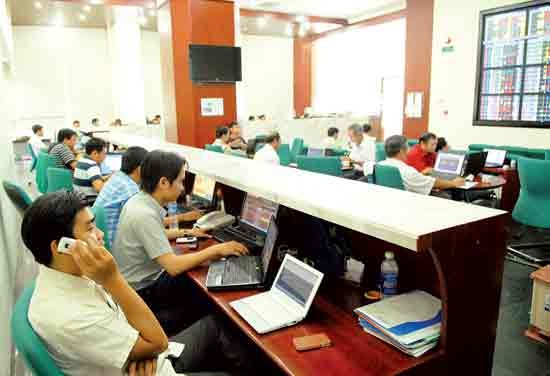 A stock exchange in HCMC (Illustrative photo: SGGP)
Deputy PM Hue said that business starting wave in Vietnam has vigorously developed among the youth however they have faced challenges in capital mobilization.
Startups in other nations have more channels to mobilize capital than in Vietnam, where they have mainly raised funds from friends, families and investment funds and met with lot of difficulties, he said.
It is necessary to study a model of stock exchange for startups. However this must follow a roadmap which should be carefully developed and assessed in institutions and operation mechanisms to prevent the exchange from being established by the movement, he added.
There is the need to gather four basic factors to create a good ecosystem for startup development including building of a suitable legal framework, creativeness and dynamics of startups, the attendance of investors and funds and other conditions in institutions and mechanisms, according to him.
Ms. Thach Le Anh, chairwoman of the project on commercializing technologies under Silicon Valley model in Vietnam, said that the most important thing in the ecosystem for startups is to call for investment. Vietnam will not be able to develop startups with a shortage of investment channels especially risky types in the first phase of the activity.
The country is short of investors in seed-stage financings with capital swinging from US$10,000-500,000 while all local startups are under this phase, she said.
"The idea to establish a stock exchange for startups is a good news half-opening a clearer path to mobilize capital for them," she said.
If Vietnam wants to develop startups into an economic lever, the Government should not only draw up policies but also directly join in investment to stimulate the quality and quality growth of startups especially in their early development phase, Ms. Anh said.
She proposed to attract private sector as well as other overseas funds to invest in these firms.
Deputy PM Vuong Dinh Hue affirmed that the Government will accompany businesses and consider itself as an initial incubator playing important role in the first phase of business starting.
The Government has set a target to have at least one million businesses by 2020. At present, the number of registered enterprises top 900,000 but in fact only 528,000 of them have been granted with tax codes. Developing startups is an important way to reach the above target, he said.
HCMC has established Startup & Innovation Fund with the initial funds of VND30 billion (US$1.34 million) and planed to increase it to VND100 billion in the phase of 2016-2020. Despite of the modest capital scale, the fund plays the role of seed-capital to help businesses call for investments, said deputy chairman of the city People's Committee Tran Vinh Tuyen at the event.
By mobilizing many social sources, the city strives to have about 350,000 businesses by 2020, he said.