Socioeconomic conditions have been clearly improved for the latest recent years with Gross Domestic Product (GDP) growth increasing quarter by quarter and year by year. However several hindrances are still in need of removal to promote Vietnam's position and strength for further achievements and development this year.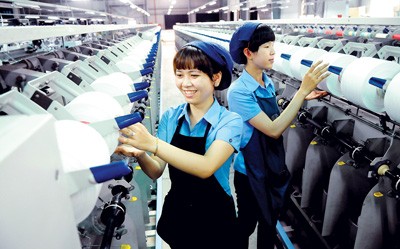 A weaving line at Thai Tuan Group Corporation (Photo: SGGP)
Many records set up

Last year, GDP continued 2013's growth momentum to reach 6 percent, exceeding the norm for 5.8 percent. Industrial production strongly recovered with the Index of Industrial Production (IIP) hiking 7.6 percent, it was only 5.9 percent in the previous year.
They were due to interest rate reduction, tax cut and incentives, public investment increase and inventory clearance.  Notably, inflation was curbed at 1.84 percent, the record low for the last 14 years.
Global economic conditions developed complicatedly. The EU fell deeper into recession, conflicts in Eastern Europe and the Middle East had no way out, and counter-terrorism fight became hotter sending the world security to an endless circle.
In Asia, sovereignty claims over the East Sea have been strained. Vietnam was heavily impacted by China's illegal placement of Haiyang Shiyou 981 oil drilling rig in the country's exclusive economic zone and continental shelf.
However the implementation of strategic breakthroughs and policies to restructure the economy and improve business environment has proved effectiveness. Vietnam's economy overcome challenges and obtained remarkable strides.
Export turnover was estimated at US$150 billion last year, increasing 13.6 percent over 2013 and beating 103 percent of the year's plan. Import value hit US$148 billion, extending 12.1 percent over a year ago and completing 95.7 percent plan.
Trade surplus was recorded at US$2 billion, the highest number for the last recent years. Oversea remittances stroke the ever record level of US$12-13 billion.
Political and social environment was stable. Exchange rates did not fluctuate much and were under control creating a motive force for Foreign Direct Investment (FDI) attraction to Vietnam.
FDI capital disbursement went up 7.4 percent against 2013 to touch US$12.35 billion. Foreign investors have begun moving into new fields such as electronics, mechanics, energy, heavy industry and industrial devices. South Korea and Japan led in FDI capital scale in Vietnam.
Reform determination
Since early this year, the Government had issued Resolution 1 on key measures for socioeconomic development. The resolution specified that Vietnam will intensify macroeconomic stability, focus on solving difficulties for production and trading activities, drastically implement strategic breakthroughs and strive to get targets and norms set for 2015.
At the December cabinet meeting the Government affirmed its determination to reform administrative procedures, improve business environment and increase competitiveness, regarding these as key missions this year. They will soon publicly announce administrative reform indexes of ministries, provinces and cities.
However, many norms are far to get socioeconomic development targets for the phase 2011-2015. Poverty reduction has not been sustainable and the material and spiritual life of residents have slowly been improved.
On the other side, the World Economic Forum has ranked Vietnam's competitiveness the 68th out of 148 economies in the world. World Bank has graded Vietnam's business environment the 78th in 189 nations.
According to studies by the Vietnam Chamber of Commerce and Industry, Vietnam's economic status is ranked the 92th in the world and the 9th in ASEAN.  The country's creativeness is at the 87th position, education and training quality at the 96th, and technology readiness level at the 99th in the world.
Institution reform, economic restructuring, and investment and trading environment improvement have never been discussed as much as what happened in recent years.
At a seminar held last year former Deputy Prime Minister Vu Khoan said that 30 years after innovation and world integration, Vietnam had obtained a number of certain achievements, however, it did not match with potentials and the country was still lagging behind many countries in the world.
Enhancing country's position
Vietnam will continue integrating deeper into the world's economy and face severer competition this year, when the ASEAN Economic Community will be established.
The country has to conduct its ASEAN Free Trade Area (AFTA) commitments, completely open the retail market as per WTO pledges, and sign and carry out free trade agreements.
Points of weakness of Vietnam's economy have been clearly acknowledged and presented in a Government's report to the National Assembly last yearend.

According to the report, economic restructuring is slow; productivity, quality and competitiveness are poor; technology innovation fails to meet demand; hi-tech and support industries have sluggishly developed; domestic businesses have not attended much in the global production network and value chain.

Agricultural restructuring in association with new rural development has yet to acquire set targets. State own enterprises reorganization has run behind schedule and business effectiveness has been low.
These might be big challenges, which Vietnam must overcome to rapidly and sustainably develop and thriftily improve residents' material and spiritual lives.

On the occasion of solar New Year 2015, President Truong Tan Sang made a speech on the media, saying that straggling was overshadowed by globalization and unavoidable from falling into dependence and becoming 'backyard' of other nations. It would be impossible to better residents' life.
Developing sustainably, narrowing development level with other countries, striving for wealthy people and strong country are urgent missions in 2015.
Therefore, it is vital to remove hindrances, overcome limitations and weaknesses, promote the nation's position and strength for new development tasks, and ameliorate economic potentials in order to obtain more achievements this year.
Vietnam has set a target for 6.2 percent GDP growth rate, 10 percent export growth, and Consumer Price Index of about 5 percent this year.

Besides the country aims at spending 30-32 percent GDP for social development, reducing the ratio of poor households by 1.7-2 percent and providing jobs to 1.6 million people.